Galaxy A90 notchless infinity screen confirmed by Samsung itself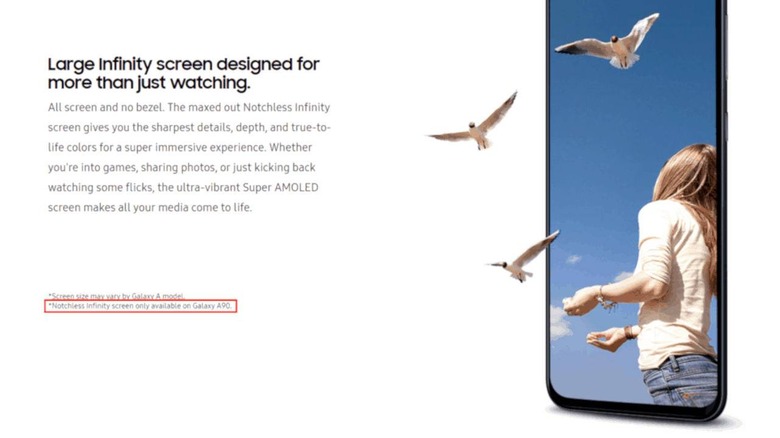 The fanfare over the Galaxy S10 and the Galaxy Fold may be over, but it seems that Samsung may yet have one more big thing coming in a few weeks. Unlike the 2018 Galaxy A7 and Galaxy A9, the Galaxy A90 continues to be an interesting mystery. At least one mystery may have already been solved, though, and we have Samsung to thank for that. For a brief moment, a small footnote on its Galaxy A series confirms that the upcoming mid-range phone will, indeed, bear a "notchless infinity screen".
This is the first time we've heard Samsung use that term. It already trademarked the Infinity-O name that it used for the Galaxy S10. The Infinity Fold, of course, had the Infinity Flex. Although it didn't call them as such, The Galaxy M20 had an "Infinity-U" screen.
Saying that the Galaxy A90 would have a Notchless Infinity screen would, at first, sound like it would use a hole-in display instead. But then, it could have just used the same language it did for the Galaxy S10 or even the Galaxy A8s. Here, however, it might be referring to the fact that the phone will have no cutout or hole whatsoever.
If that were the case, then the Galaxy A90's popup camera is pretty much a done deal. Samsung's own teaser for the April 10 event already hints at that.
Enter the era of live. April 10, 2019 – Live on https://t.co/kDIR3TcbZ5 #SamsungEvent pic.twitter.com/EqN8wF04Wd

— Samsung Mobile (@SamsungMobile) March 18, 2019
It doesn't, however, confirm the biggest rumored feature of the Galaxy A90. It will supposedly feature a rotating popup camera so that only one high-quality sensor is needed. Considering how crazy Samsung seems to get with the Galaxy A series, that's definitely within the realm of possibility.