Galaxy A90 invite practically confirms popup camera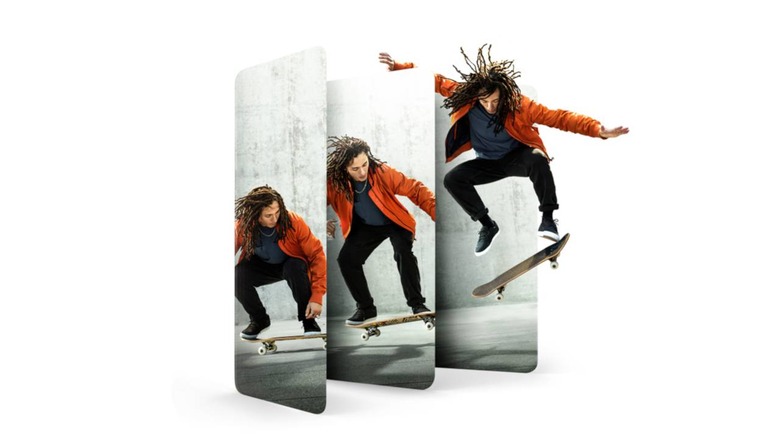 Samsung isn't one to be completely subtle when it comes to its official teasers. It pretty much confirmed its folding smartphone's appearance in last month's Unpacked ads. Late last year, it also teased "A Galaxy Event" that unveiled the new Galaxy A7 and Galaxy A9, the latter with Samsung's first quad-camera setup. Now it has A Galaxy Event scheduled next month and it might already be teasing the phone's signature feature.
Samsung hasn't explicitly mentioned a name for the phone but it's expected to be the Galaxy A90. The marketing name might change but the features will remain the same. If all the rumors are correct, this would be Samsung's first smartphone with a popup camera.
Samsung itself seems to be teasing that feature. Its official invite to the event next month shows a man on skateboard jumping out of the frame of what seems to be a smartphone display. Given how the man doesn't jump out completely, leaving his head poking out at the top, it's almost a confirmation of the popup camera's existence.
Enter the era of live. April 10, 2019 – Live on https://t.co/kDIR3TcbZ5 #SamsungEvent pic.twitter.com/EqN8wF04Wd

— Samsung Mobile (@SamsungMobile) March 18, 2019
The teaser, unfortunately, doesn't say anything about the literal other side of the Galaxy A90 rumors. More than just a popup camera, the smartphone will allegedly have a rotating popup camera. That's admittedly a pretty bold move for someone like Samsung.
Beyond the camera gimmick, Samsung might also market the Galaxy A90 as a gaming phone, at least based on yet another Samsung "confirmation". That despite the phone's expected mid-range specs. Whatever it will have, Samsung will reveal all on April 10 with an event that will take place simultaneously in Bangkok, Milan, and Sao Paulo.