Galaxy A8 (2018), A8+ (2018) are now official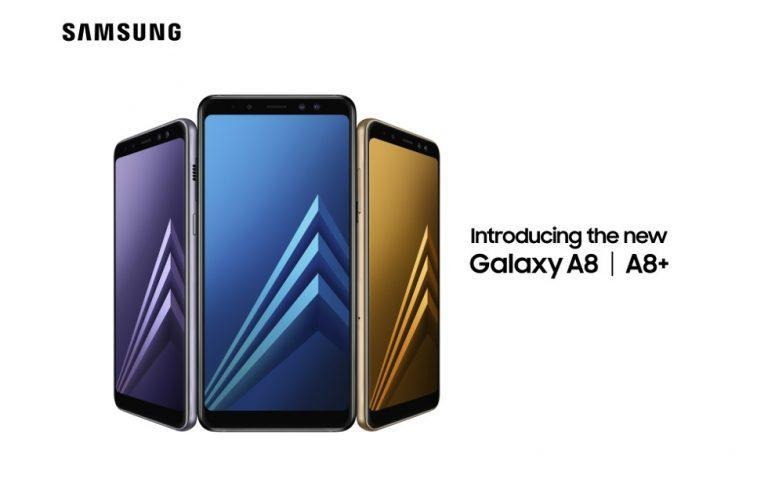 It's still weeks before CES 2018 but it seems Samsung wants to end 2017 with a bang. Initially expected to be announced next month, the Korean OEM has officially unveiled the Galaxy A8 and A8+ 2018 editions, bringing with it the Infinity Display of its flagships and its first ever front-facing dual cameras. Aimed to offer some of Samsung's latest tech at a more affordable price, the Galaxy A8 (2018) could ironically make next year's Galaxy S9 a bit of a tougher sell.
Of course, the A series is no S flagship, but if you're just looking for features, the Galaxy A8 (2018) practically checks all the boxes. It has an Infinity Display, though only 1080x2220 Full HD+. There's curved glass back and front but the screen itself doesn't seem to curve like a Galaxy S8. Thanks to the Super AMOLED screen, it supports the Always On Display feature. It even supports Samsung Pay, both the NFC and MST methods.
Its headlining feature will probably be the two front cameras, one 16 megapixel, the other 8 megapixel, both with an f/1.9 lens. That naturally gives it Samsung's Live Focus feature, letting users adjust their bokeh preferences before and even after taking a shot. No OIS here, of course, but Samsung is now touting its own version of EIS that it dubs as "video digital image stabilization" or VDis.
Both the Galaxy A8 (2018) and the larger Galaxy A8+ (2018) only have one camera at the back, a 16 megapixel f/1.7 sensor with phase detect AF and, sadly, still no OIS. The Galaxy S9 is expected to also have only one camera on its back, which might disappoint those hoping for one. Given how close the Galaxy A8 (2018) is in terms of features, some might simply opt for this more affordable, though admittedly weaker, model instead.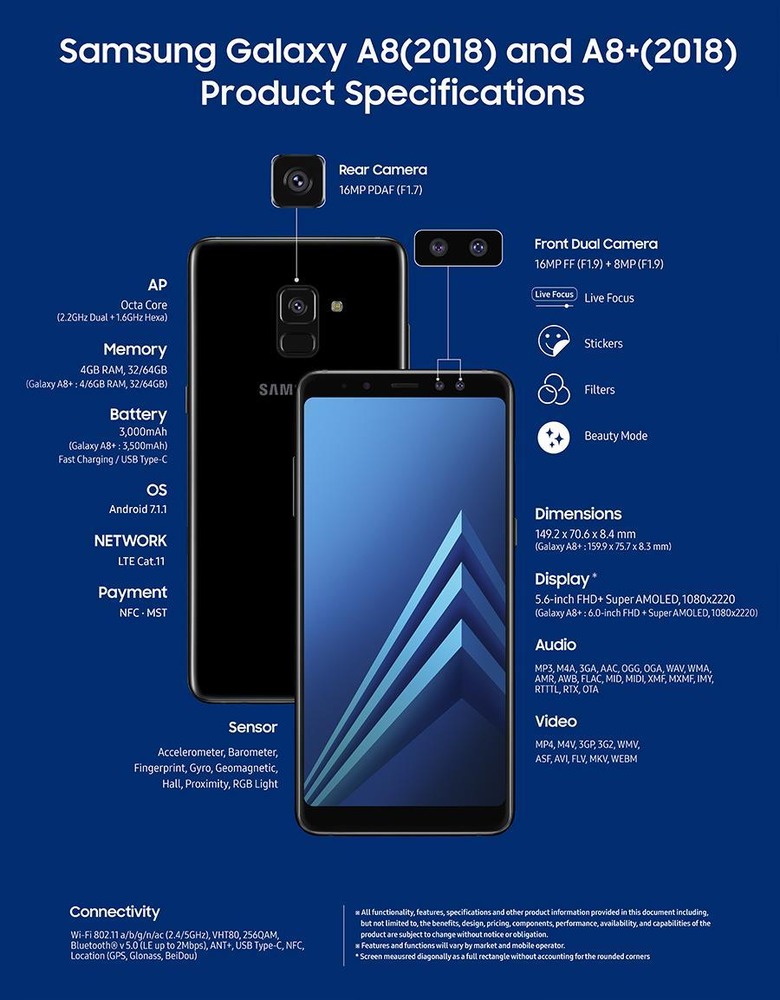 • Operating System: Android 7.1.1• CPU: 2 x 2.2 GHz, 6 x 1.6 GHz• RAM: 4 GB (Galaxy A8, A8+), 6 GB (Galaxy A8+)• Storage: 32 or 64 GB, expandable• Display: 5.6 inch (Galaxy A8) or 6.0 (Galaxy A8+), 2220x1080 18.5:9 Super AMOLED• Main Camera: 16 MP, f/1.7 PDAF• Secondary Camera: 16 MP + 8 MP, f/1.9• Battery: 3,000 mAh (Galaxy A8), 3,500 mAh (Galaxy A8+)
The Galaxy A8 and A8+ 2018 editions will be available starting January in four color choices. That includes Black, Orchid Grey, Gold, and Blue. No word yet on markets and pricing but expect some news to arrive next month at CES.
SOURCE: Samsung