DJ Koh wasn't kidding. Samsung's mobile business chief shared that the company as pushing new features to its mid-range line first in order to appeal to millennials Now just a month after it launched its Galaxy Note 9 flagship, Samsung has announced the first fruit of that new direction, the 2018 Galaxy A7. And, lo and behold, it is indeed everything we have expected it to be, cameras and all.
And yes, there are three cameras on its back and it's undeniably the biggest appeal of this smartphone. But let's set our expectations right, the Galaxy A7, no matter the innovation, is still a mid-range phone. So don't let the numbers fool you, be it megapixel count or lens count, it's not going to take DxOMark by storm. It will, however, make for more varied and better quality shots than your average mid-range phone, even those with dual cameras.
New here is the ultra-wide 8 megapixel f/2.4 camera with an ultra-wide 120-degree angle lens. That, Samsung explains, is designed to mimic the human field of vision so that the camera records the world as you see it, which is Samsung's marketing slogan for the Galaxy A7 (2018). The main camera is a 24 megapixel f/1.7 sensor while the third is a 5 megapixel f/2.2 depth sensor, which can work together for bokehs. No variable aperture, no telephoto. Continuing its appeal to millennials, the Galaxy A7 boasts of a 24 megapixel front camera for selfies.
The other innovation that this "millennial's smartphone" brings is a side fingerprint scanner instead of the traditional rear-placed on. This leaves the back empty save for the cameras and branding but also dodges the need for a fingerprint-on-display (FOD). This is a design similar to Sony's old Xperia design, which never became available in the US. Coincidentally, neither will the Galaxy A7.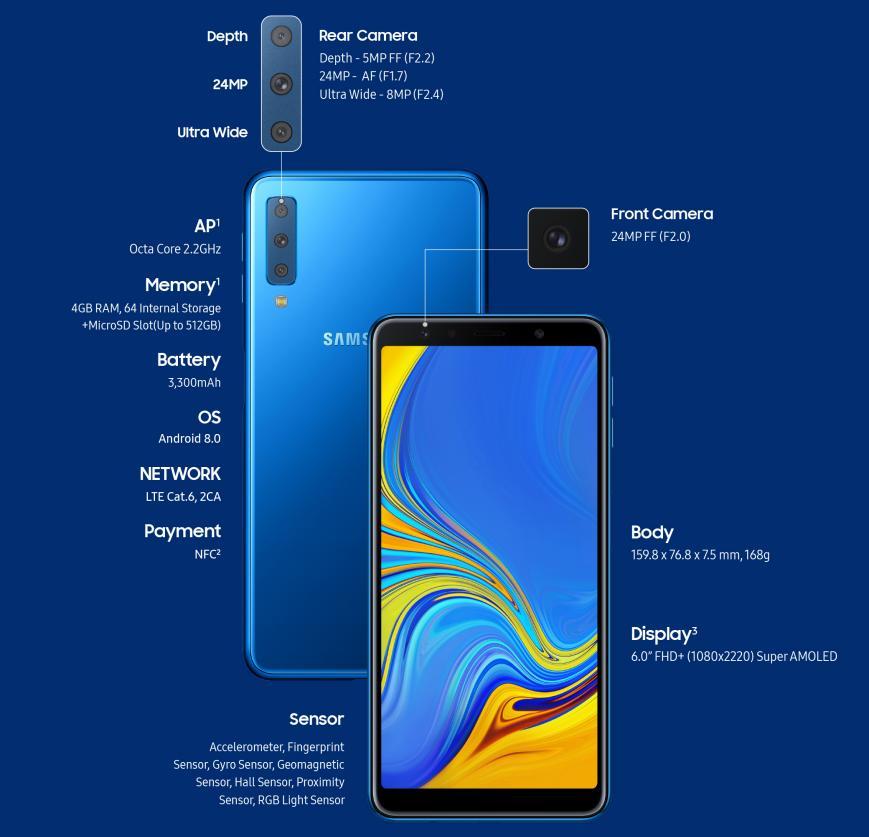 In all other aspects, the Galaxy A7 (2018) is pretty much a topnotch mid-range smartphone, one that runs on a still unnamed 2.2 GHz octa-core processor, with 4 or 6 GB of RAM, 64 or 128 GB of storage, and a large, 6-inch FHD+ 2220×1080 Infinity Display. The smartphone is scheduled to launch in Europe and Asia this Fall. But wait, there's more! Samsung still has its "A Galaxy Event" on October 11 will it will welcome "a new member to the Galaxy family", perhaps hinting at the Galaxy A9 Star that will bring not two, not even three, but four cameras to the fold.