G-Form X Protect iPhone 4/4S case revealed, survives 82 mph slapshot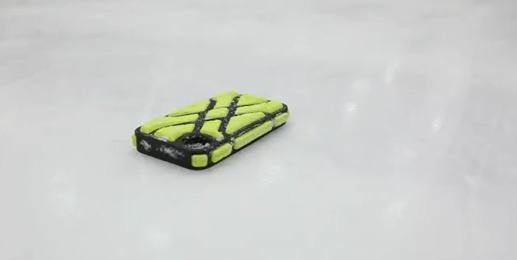 The folks at G-Form have brought the fury once more with a brand new case for Apple devices, this time not protecting the iPad, but the iPhone 4/4S instead, and their first death-defying test is in the hockey arena. The test you're about to see shows off the power of protection in the G-Form X Protect case as a hockey superstar takes a nice couple of cracks at it with his stick. As the video will show, this is no joke when it comes to breaking and smashing – 82 mph hits with a blunt object don't exactly fare well normally one a device like the iPhone.
This case is the relative of the G-Form iPad case, one that's allowed the iPad to survive a fall from outer space – 100,000 feel falling free down to the unforgiving earth. Now this sports action should let you in again on the ultra protective properties in the G-Form world. This case is made for the iPhone 4 but of course works for the iPhone 4S as well as they're essentially the same device on the outside – and notice the puckness of the case as well. Looks like it helps out with sliding!
This case is being released in two forms, the first being the X Protect, the second being the Extreme Grid. Each version of the case is available in a yellow color scheme (not unlike the iPad case we've seen previously) as well as an all-black form. Both cases will be available from G-Form for a total of $39.95 and are currently on pre-order. Shipments will start at the end of February, 2012.