Fusion-io ioDrive Duo SSDs: up to 1.28TB of stupid-fast storage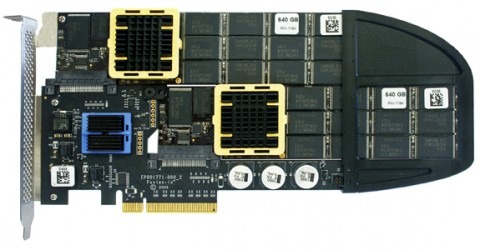 Fusion-io hardly needed to reinforce their position as manufacturers of the world's fastest SSD, but the record-breaking ioDrive now has a storage-boosted sibling in the shape of the Fusion-io ioDrive Duo SSD.  Unlike the first model, which maxes out at 640GB, the ioDrive Duo will be available in capacities up to 1.28TB.
The card is based on the PCI Express x8 or PCI Express 2.0 x4 standards, and promises 1500MB/sec sustained read and 1400MB/sec sustained write speeds.  There's also optional RAID-1 mirroring on the card itself, with two ioMemory modules storing the same data for redundancy.
The 1.28TB drive won't land until the second half of 2009, but the smaller 160GB, 320GB and 640GB models will be available from April 2009.  No word on pricing, but given that the 320GB original model costs $14,400 this isn't going to be a cheap storage upgrade.
[via Hot Hardware]