Fusion Garage Grid 10 Tablets Get $200 Price Cut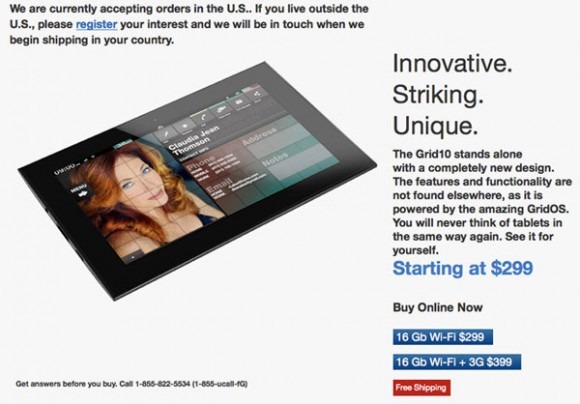 One of the things that I thought was wrong with the Fusion Garage Grid 10 tablet was the price when we originally heard of the offering. The tablet was announced at prices of $499 for the WiFi only version and the 3G version was going for $599 originally. The tablets were also strangely marketed when first announced. The original ship date had been set for September 15. That ship date has now been delayed a few weeks with a new ship date set for October 1.
The upside to the delay in shipping the Grid 10 if you are interested in one is that Fusion Garage has slashed $200 off the price of both tablets. The new WiFi only price is $299 with the WiFi/3G version at $399. That certainly makes the tablets more appealing. The Grid 10 runs the Android-based Grid OS and will be more appealing now with the new price.
Fusion Garage told Engadget that it has always intended to launch the Grid 10 at the new lower prices. The company claims that negotiations with an ODM supplier kept it from being able to offer the current prices before. I am finding that a bit hard to believe. I think it more likely that Fusion Garage saw the lackluster interest and just slashed prices. The delay in shipment is based on new criteria in the Flash player 10.2 approval process.
[via Android Community]