Furious 7 featurette: Cars drop from a C-130 aircraft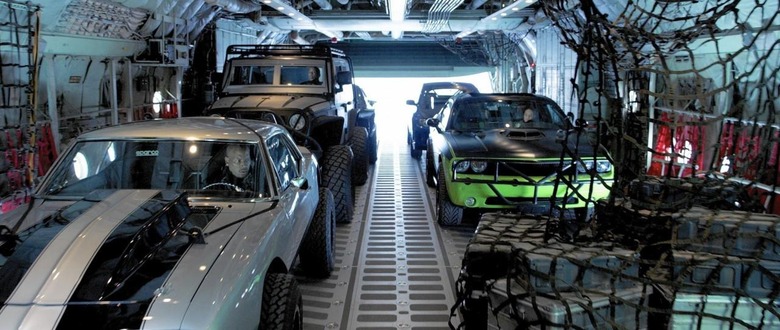 We've been waiting long enough. Furious 7 is almost here! Of course, we're going to show it to you here. In the earlier movies, the Fast and Furious crew drove the hottest supercars across America, Toyko, and Europe. Now they're driving souped up cars out of an airplane! In anticipation of the film's release April 3rd, 2015, they released a stunt featurette on YouTube. There isn't any cheesy CGI in this stunt. They actually drop two cars out of a C-130 military transport plane at 12,000 feet.
The Furious 7 – Feauturette: "C-130 Drop" shows us behind the scenes footage from the stunt team and camera crew coordinating this massive feat. All set to pulse-pounding music, the cars are dropped from the plane. Although the cars are dropped from an altitude of 12,000 feet, their parachutes don't open until 5,000 feet. The excitement is palpable as the zoom and freefall through the air.
Even more shocking, to get all the right shots for the film, three camera men wearing helmet cams jump alongside the cars! They freefall at 140 mph and maneuver above, below, and around the cars. While falling, they have to dodge each other as well as the falling vehicles.
Furious 7 hits theaters and IMAX on April 3rd, 2015. When you marvel at the C-130 drop scene, remember that every shot was filmed by an actual skydiver. So, the shots looking up a the cars from below were filmed by skydiving camera men who were speeding precariously under 2-ton falling cars!
Check out the featurette to tide you over until April 3rd.