Furbo is a dog camera that tosses treats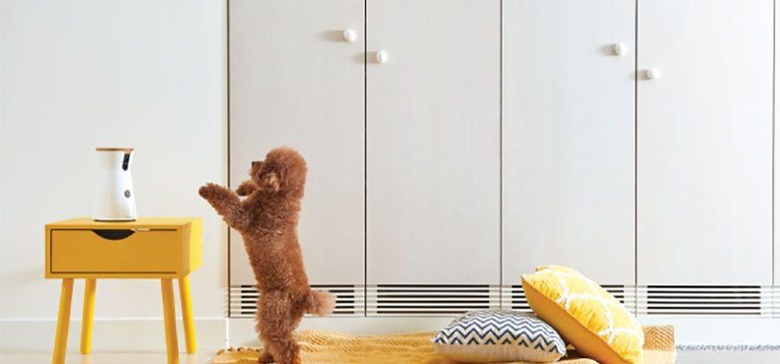 People love their pets and around the world, massive fortunes are spent each year on toys and treats for pets. A new product called Furbo has turned up on Indiegogo and this is a very cool camera and treat dispenser for pets that lets pet owners feed and play with their dog from afar. Furbo is described as an interactive dog camera with a connected app. The app allows you to see, talk, and give treats to Fido while you aren't at home.
Furbo has two way audio inside so you can hear your pet and your pet can hear you. The camera has a four times zoom feature so you can get a better look at the pet. The camera is also able to see in the dark with night vision. Other features include a barking alert so you can tell when the pet is in distress.
Furbo has photo and video storage capability so you can record the antics of your pet as you play with them remotely and the images and video can be shared to social media. The Furbo device is designed to handle whatever treats your dog prefers. Considering the small opening in the device, I'd assume they need to be small, hard treats not soft treats that might get caught up in the mechanism.
To launch a treat all the user has to do is open the app and swipe up to launch a treat. There are sounds and lights from the Furbo to let your dog know a treat is going to be launched. The night vision mode uses an integrated infrared LED filter that gives clear view in low light. The Furbo can be set to turn off when you leave the house or when your smartphone is close to home, it can turn off. An adhesive patch sticks the device to a surface so your dog can't knock it over or run off with it. Furbo was seeking $50,000 and has raised over $93,000 as of writing with a month to go. A Furbo will cost you $99 with shipping in July.
SOURCE: Indiegogo