Funny or Die Weather app offers a joke with the temperature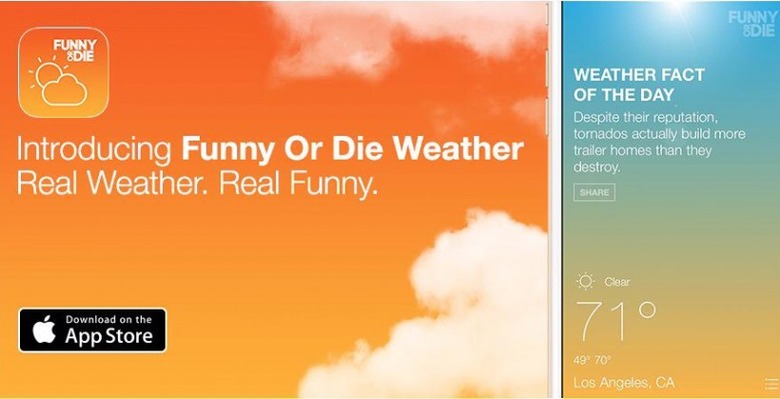 Funny or Die, the comedy website co-founded by Will Farrell, has just launched a new iOS app in a category that's a bit unexpected. Funny or Die Weather is, as the name implies, primarily a weather app, but this one offers up a joke in the website's typical style alongside the temperature forecast. But the app itself is no joke, it sources its weather information from Weather Underground, features a simple, clean look that fits in with iOS 8's design, and best of all, it's completely free.
When you launch the app, at the top you'll see a "Fact of the day," which is a one-liner joke that may, or may not, actually be about the weather. You'll see a different gag for each location you track the weather at, and there's a share button just below which lets you post both the temperature and the joke to Facebook or Twitter, and send via email or text.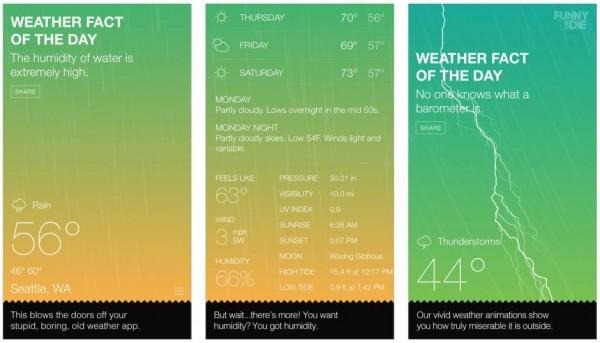 In terms of functioning like a typical weather app, Funny or Die's differs little from Apple's default or Yahoo Weather. You'll see simple background animations corresponding with the current conditions, and detailed information like a 24-hour forecast, 5-day forecast, sunrise/sunset time, windspeed, humidity, UV index, and more, all from the Weather Underground network.
As previously mentioned, the app is free, and there's no in-app purchases or adds, so there's not a lot to fault it for. It's even formatted for the iPhone 6 and 6 Plus. So if you're already a fan of the Funny or Die website, and want a laugh when you check the weather, it's hard to argue with this addition to the category.
SOURCE Funny or Die Weather