As part of the Star Wars announcements at this year's D23 expo, Disney revealed that it has plans to open a resort hotel that will completely immerse guests in the world of Star Wars. An exact opening date wasn't revealed, but the hotel will be a part of the upcoming Star Wars Galaxy's Edge land being created at Walt Disney World in Orlando.
Disney resort chairman Bob Chapek explained their vision, which sounds almost ambitious as the world of HBO's Westworld. The hotel will be designed to look like the interior of a starship, with all the windows looking out into space, and guests will be provided with Star Wars-themed clothing. Employees will essentially be in costume and playing roles, and — here's the biggest part — guests will be given storylines once they check in, with "every minute" of their stay being immersed in the world of Star Wars.
UPDATE: The Star Wars Hotel is officially called the Star Wars Galactic Starcruiser. This was confirmed by Disney job listings in February of 2021.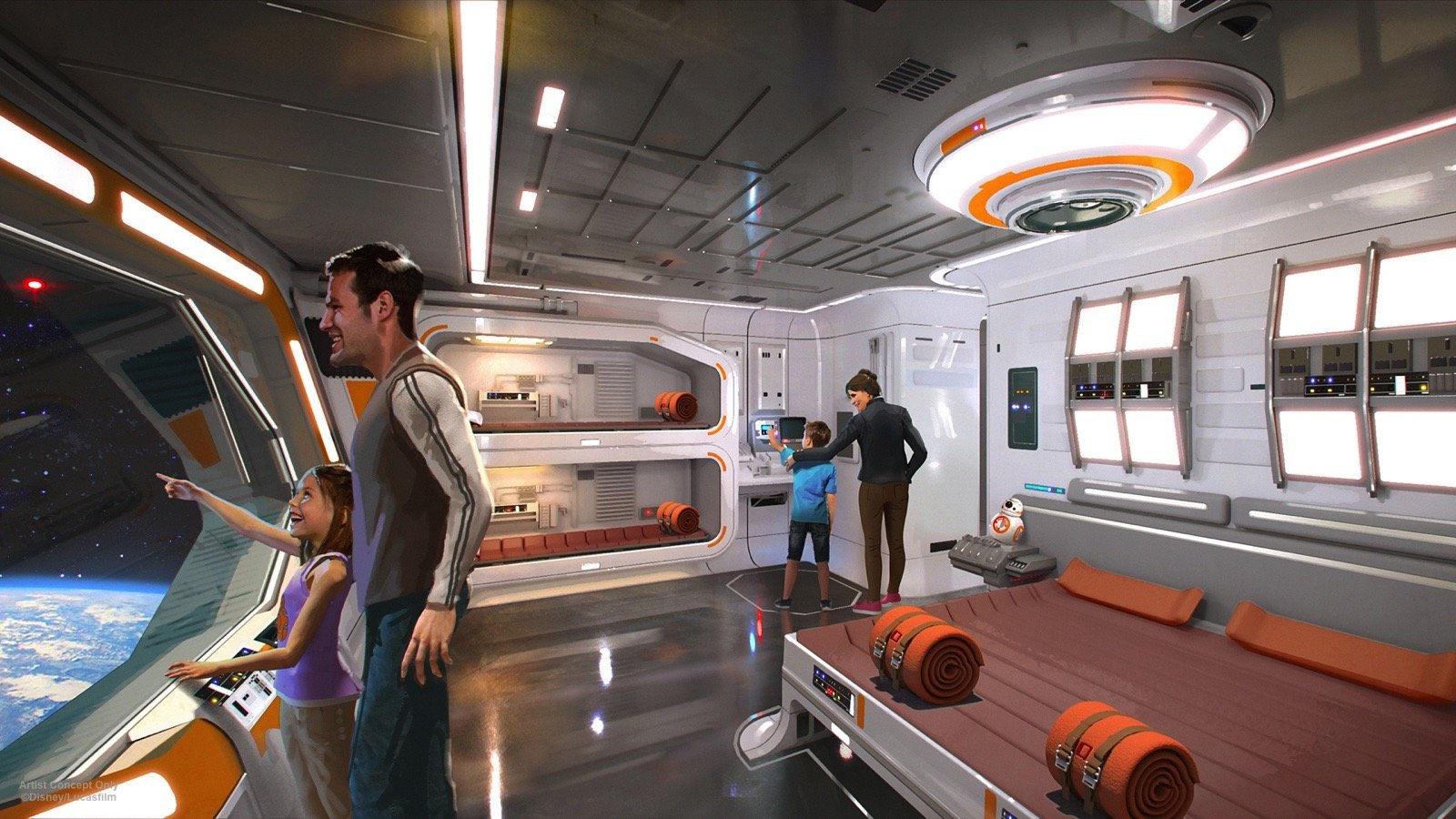 A couple of pieces of concept art (seen here) were revealed, depicting the kind of experiences guests would have. Going by Disney's explanations, it sounds like the hotel will be designed to continue the interactive experience from the theme park, especially the new Galaxy's Edge area, also revealed at D23.
As a new park area coming to both Disneyland in California and Disney World in Florida, Galaxy's Edge will offer Star Wars experiences: imagine running into Chewbacca and getting recruited to take a ride on the Millennium Falcon, with each individual getting their own task on the ship. Or you might even have bounty hunters chasing after you if end up doing some not-so-good deeds. Once that's over, you'll be able to make a visit to an iconic Cantina and refresh yourself with some Star Wars beverages.
Disney says the Star Wars Galaxy's Edge parks at both locations will be opening in 2019.
SOURCE Disney Parks