Full Terminator Dark Fate trailer: 3 reasons you should avoid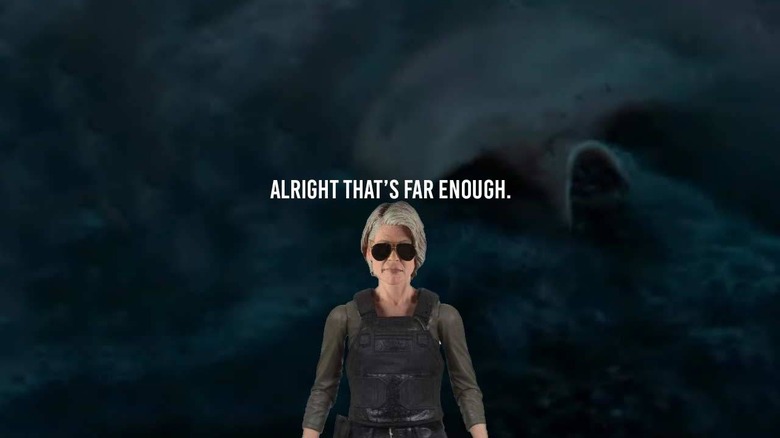 Today you should not watch the new Terminator Dark Fate trailer for three very important reasons. If you've already gotten this far, you've quite likely already seen the first teaser trailer for this film – the teaser released earlier this year. If you've seen that teaser, you've already seen everything you need to know about this movie before you see it in all its big-screen glory in November.
3. Spoliers aplenty
If you want to be shocked by the appearance of any familiar face in this movie, it's time to turn back. You might well have been spoiled already, given the official poster for the film. The poster is packed with stars from the film, completely tossing aside the fact that their varied forms and innards (body parts, guts,) are almost certainly important, shocking reveals in this film.
I'm still not entirely sure who Arnold is in this iteration of the timeline. He's been so many different T-800 terminators that it's just as likely he's a brand new (never seen before in the entire series) iteration of the tech. I'd be just as glad to see him appear as a new version of Pops... but that'll never happen.
2. The Booj
Just like almost every other major film trailer released since Inception, this trailer is full of bass drops and one-line clips of audio that mean extremely little. Do your self a favor and do NOT listen to the Imaginary Worlds podcast episode The Booj or you'll never be able to watch a modern film trailer the same way again.
1. "Because I was her"
Our first viewing of the trailer seemed wrong, somehow. There was something strange going on with the voices – maybe it was off-point, like a streaming video where the sound plays just a tiny bit too early or too late. It's not just one source for the trailer – it's every upload on every platform.
At 1:16 in the Paramount Pictures release of the trailer (shown below), you'll hear it. At that point, you hear Sarah Connor say "Because I was her" but it does not match up with the visual, and was almost certainly recorded separate from the actual mics placed in the scene. This in itself is not odd – it happens extremely often in movies of all sorts. It's this specific recording that's bothersome.
It's so different that it might not even be Linda Hamilton. It's so jarring that it makes the whole trailer seem like a last-minute edit.
0. Just watch it anyway
If you've gotten THIS far, you might well have come to this article seeking out some tips for how to watch the trailer with a weather eye. Good on you – you're the sort of person that'll get the most out of this movie when it's released on November 1st, 2019. Below you'll see the trailer released today.
The trailer above shows scenes from Terminator: Dark Fate, in its "official trailer" format from Paramount Pictures. This film includes appearances from Linda Hamilton as Sarah Connor, Arnold Schwarzenegger as "T-800", and quick appearances of Mackenzie Davis, Natalia Reyes, Gabriel Luna, and Diego Boneta. This film was directed by Tim Miller, whose most important previous director credit is most certainly Deadpool.