Full frontal Olympus E-PM1 spy photo turns up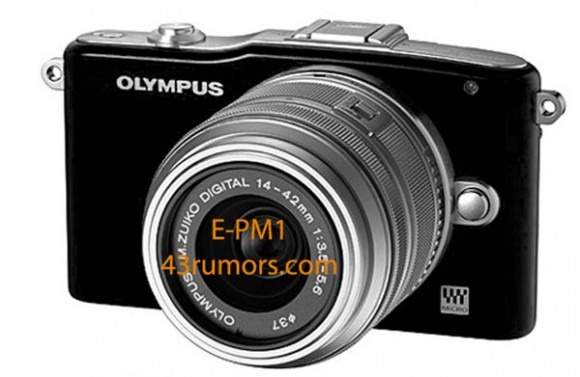 Olympus is set to trot out some new digital cameras tomorrow in London. The presumption is that one of the cameras to be unveiled tomorrow will be the oft leaked E-PM1 that we are talking about here. I already talked a bit about this camera back when leaked photos of the camera top controls surfaced. We don't have a huge amount of detail on the camera at this point. The camera will launch alongside new 12mm f/2.0 and 45mm f/1.8.
Other than those lenses being pegged for launch, we don't know just a whole lot about the E-PM1 PEN camera. We do know it's supposed to have a new image sensor and imaging engine. A new photo of the camera has now leaked that shows the thin little cam from the font. Previously we only had shots of the camera from the top. 43rumors claims that the camera will have a 12MP Olympus image sensor and a TruePic VI engine, just as the E-P3 that is expected to get official tomorrow uses.
The PM1 is said to have a 10 million dot LCD on the back rather than the OLED screen on the rear that the E-P3 will use. One key bit that we have no indication on is the price. 43rumors guesses that the E-PM1 will sell for about $549 with a kit lens and $499 for the body only. We should know all of the details tomorrow when Olympus goes official.
[via 43rumors]