Fujitsu U820 UMPC gets Windows 7 upgrade [Video]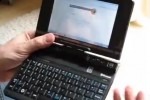 The Windows 7 RC testing continues, and after we've seen how reasonably it runs on an Atom N270 netbook its time to turn to a slightly more niche gadget.  Fujitsu's U820 UMPC (aka the Loox U/B50N, aka the U2010) may be small enough to lose under a hamster, but it gets a new lease of life with Windows 7: Steve from UMPC Portal has been testing it out, and he's finding longer battery life, faster boot-up and improved touchscreen functionality versus Vista.
Demo video of Windows 7 on the U820 after the cut
In fact, Steve edited and processed the test video on the UMPC itself, using Windows Live Movie Maker Beta with the YouTube upload plugin.  It wasn't exactly fast – over an hour to render around 19 minutes of VGA MJPEG 14mb/s source footage – but it's certainly possible; we've a feeling the same task would prove slower or even unfeasible on Vista.
Part of the success, in fact, is Windows 7's native media decoding, with Divx and H.264 support out of the box and even hardware decoding for the latter.  The only thing that isn't working is the tap-to-click functionality for the trackpoint nubbin; happily Fujitsu still fit mouse buttons, so that's a minor flaw.  Everything else  – WiFi, Bluetooth, FM transmitter, touchscreen, fingerprint reader, etc – works as it should.  Score two for Windows 7!