Fujitsu U2010 UMPC with Intel Atom, 3.5G WWAN and GPS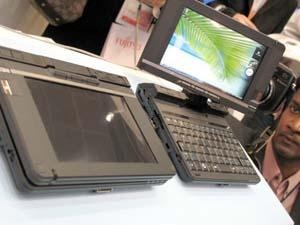 Just because the chips are in short supply, doesn't mean the manufacturers aren't insisting on using them.  Fujitsu's U810 UMPC is the latest recipient of Intel's Atom processor, together with an altered casing, keyboard and name.  Now under the moniker U2010, the keyboard has six rows compared to the U810's five, and there's built-in 3.5G WWAN and GPS.
The 5.6-inch touchscreen and convertible form factor are still the same, though, so the big difference is the CPU.  Microsoft are being pretty draconian with their XP licencing, so while that older OS might run better on an Atom processor the presence of the touchscreen means Fujitsu will have to go with Vista.  There's no word on what speed chipset is being used, but however fast there's concern that the pairing don't sit well together.
Aiming for the "high-end market", Fujitsu have priced the new U2010 at NT$40,000 (US$1295.34) for when it releases in Taiwan in July.  The existing U810 starts at $999, although to spec it with HSDPA takes that to $1199.  Fujitsu are yet to release updated battery expectations, but considering the U810 can manage up to 5.5hrs hopefully the Atom CPU will push that even higher.
[via jkOnTheRun]