Fujitsu to offer smartphone specifically designed for elderly users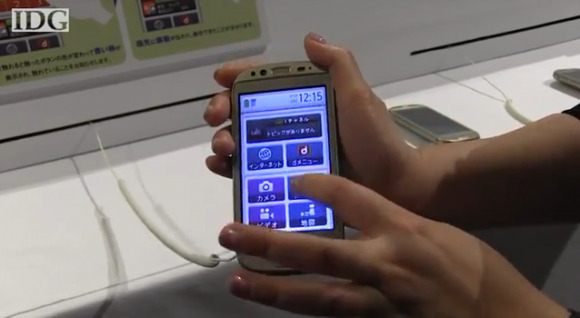 Japanese electronics firm Fujitsu unveiled a new smartphone yesterday designed for elderly users, featuring a unique touchscreen and Android user interface that's been simplified. Called the F-12D from Fujitsu's RakuRaku product line where "rakuraku" can be translated from Japanese to mean "easy" or "comfortable," the company will primarily be aiming to target Japan's aging population with this particular model.
Fujitsu said that it had worked directly with Google to design a phone that would prevent elderly users from becoming overwhelmed or confused while using it. The simplified user interface features larger text and buttons and only vertical scrolling to make everything as easy as possible.
The touchscreen has also been given a makeover and was specifically made for first-time users who aren't yet used to the technology. Tests by Fujitsu revealed that many elderly users experienced difficulty and frustration trying to use a typical touchscreen on any other smartphone, which is why the touchscreen on the F-12D has been built to give way a little when pressed, which resembles the feeling of pressing down on an actual button.
Fujitsu admitted it was eager to bring the phone to foreign markets in the future. It will be available for sale in Japan in early August under NTT DoCoMo, Japan's biggest operator.
[via Computer World]