Fujitsu Stylistic Slates melt my heart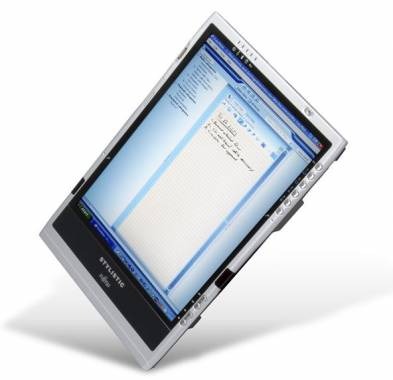 Oh sweet mother of a tiny goose, my mouth sure is watering tonight!  Feast your eyes, friends and neighbours, on this gorgeous slate Tablet PC from Fujitsu.  Less than an inch thick, with a magnesium-alloy lower housing and weighing just 3.5 pounds, this truly is the bee's knees of keyboard-less pen computing.  It's not just pretty, either; with a 1.2GHz Intel Core Duo Mobile processor, minimum of 512mb of RAM (upgradeable to 4Gb) and 40Gb 5400rpm hard-drive (upgradeable to 100gb), oh and a battery that's rated for up to six hours, it's a mobile powerhouse.
There are two screen options; the ST5111 has a 10.4-inch XGA reflective front-lit display optimised for outdoor use, while the ST5112 has a bigger, 12.1-inch XGA wide-view display, also rated for indoor and outdoor use, with a 160 degree viewing angle, but without the front-lighting.  Both come with a/b/g WiFi and Bluetooth, while the ST5112 has a fingerprint reader in addition to the Smart Card slot each has as standard.  Options include a 9-cell battery that should last up to nine hours, a dual-mic array (only on the ST5112 model) and docking station (giving three USB 2.0 ports, Firewire, VGA-out, ethernet (RJ-45) port, audio line-out, DC-in, and a modular bay for weight saver, DVD-ROM, CD-RW/DVD combo, or DL Multi-Format DVD Writer).
The ST5111 starts at $2,429 and the ST5112 at $2,199.
Press Release and Product Page [via jkontherun]