Fujitsu Siemens Celsius workstations get new Xeon boost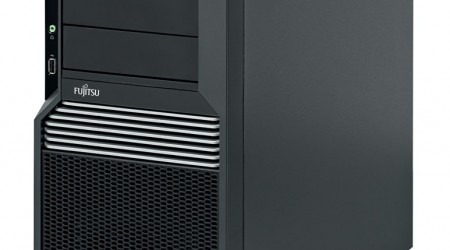 Fujitsu Siemens have announced three new workstations under its Celsius brand, all using Intel's latest Xeon processors.  The Celsius M470, R570 and R670 are all multi-core capable, support up to 24GB, 48GB and 96GB of RAM respectively, and dual graphics.
The two R-series Celsius workstations also support SLI graphics, while the R670 throws an integrated SAS controller into the mixture.  Together with the Xeon CPUs, Fujitsu have used the 1S Intel X58 and 2S Intel 5520 chipsets.
Fujitsu are also promoting the machines as environmentally-considerate: their power supplies are high-efficiency and meet ENERGY STAR 5.0 certification, while the work environment should be more comfortable as they boast best-in-class noise emission levels.  No pricing has been announced for the new Celsius workstations, nor specific availability dates.
Press Release:
The first product innovation under the Fujitsu brand: Fujitsu Siemens Computers introduces three powerful new workstations

The CELSIUS M470, CELSIUS R570 and CELSIUS R670 will be based on the latest Intel® processor technology and, with optimized computing and graphics power, take workstation performance to the next level

Fujitsu Siemens Computers today introduces a new generation of workstations which offer a new level of computing and graphics performance: The CELSIUS M470, CELSIUS R570 and CELSIUS R670 will be already based on Intel®'s latest workstation platform, codename: Tylersburg, which Intel® announced yesterday. With Intel®'s latest Xeon® processor 3500 and 5500 series Nehalem EP / WS as well as the new 1S Intel® X58 and 2S Intel® 5520 chipsets on board, the new CELSIUS family members deliver superior performance which makes them the ideal choice for compute-intense, multi-core optimized workstation applications. They will be the first product innovations introduced under the Fujitsu brand following Fujitsu Siemens Computers' integration into Fujitsu as a wholly owned subsidiary on April 01, 2009.

Achieving best-in-class benchmark scores, the new workstations offer a better balanced architecture and an enormous performance boost – in complex modelling and simulation for example single application performance can be increased up to four times. Also, the new CELISUS range is certified and optimized for all leading workstation ISV applications.

All three workstations can be configured with a complete range of up to two next generation, professional OpenGL graphics sub-systems and are launched in a new functional design which provide a new dimension of performance and shader features suitable for the most demanding graphic tasks in environments such as 3D Computer Aided Design (CAD), Computer Aided Engineering (CAE, Simulation) and Digital Conte nt Creation (DCC) or even High-end Visualization, Post-processing or in Geo Sciences.

In terms of usability and Green IT features, Fujitsu Siemens Computers has even further upgraded its new workstation highlights. Thanks to an improved cooling technology, noise level and heat dissipation have been further reduced: The new CELSIUS models boast best in class noise emission and, in fact, provide whisper quiet operation. In addition, their high efficiency power supply makes them less power-consuming and fit for ENERGY STAR® 5.0 (in preparation).

Superior reliability is granted by a system board engineered and manufactured in Germany, by extended lifetime components for a trouble-free operation around the clock and by a sophisticated premium status LCD that displays the system status at any time and delivers comprehensive diagnostic information for problem resolution as well as customer specific information like system serial numbers – even without the Operating System running.

"Our new CELSIUS workstations are a breakthrough in terms of computing and graphics performance and underline Fujitsu Siemens Computers' capability to deliver high-end infrastructure products and solutions to our customers as soon as the latest technology is available in the market", says Wilhelm Geyer, Director Workstations at Fujitsu Siemens Computers. "Our powerful and reliable workstations have become indispensable equipment in the demanding workstation target markets. Based on the new Intel® platform and with the improved cooling system, the latest models – now under the Fujitsu brand – will be even more appreciated as a personal supercomputer which provides not only double performance, but also the perfect user experience for professional workstation users."

"With the new Xeon® processor 5500, Intel® has achieved another key milestone in its approach to increase the power while reducing power consumption in workstations" says Christian Morales, Vice President and General Manager Europe, Middle East and Africa at Intel®. "Customers can unleash the power and energy efficiency of the new Intel® Xeon® processor 5500 series now, as vendors such as Fujitsu Siemens Computers have the technology ready to make it available immediately in its latest high performance workstation models."

The new workstation models at a glance:

CELSIUS M470

This high performance, multi-core workstation is designed for mid-range 3D CAD, CAE and DCC applications. It supports up to 2 ultra high-end graphics subsystems, is equipped with the latest Intel® Xeon® processor and memory capacity of up to 24 GB. This makes it the best choice single-processor workstation for engineers, architects, animators or analysts.

CELSIUS R570

The CELSIUS R570 is the compact Dual Xeon mid-range workstation and the ideal choice for high-end 3D CAD, DCC and FSA applications. It supports up to two ultra high-end graphics subsystems as well as SLI technology and offers up to 48 GB memory. This compact dual-processor workstation delivers highest performance for ambitious tasks in almost any workstation segments.

CELSIUS R670

With the CELSIUS R670, Fujitsu Siemens Computers introduces a high-end, dual Xeon® workstation for high-end CAE, VR/VIS and GIS applications; it is even suitable for demanding EDA users. It supports up to two ultra high-end graphics subsystems and SLI technology, but offers up to 96 GB. For best I/O, the CELSIUS R670 is equipped with an integrated SAS controller. Its ultimate performance level makes it the perfect partner for most demanding multi-threaded tasks and for personal supercomputing.

About Fujitsu Siemens Computers:

Fujitsu Siemens Computers is the leading European IT Infrastructure Provider. By delivering Infrastructure products, solutions and services as well as Managed Infrastructure or a combination of these offerings, our customers have the freedom to choose whatever IT infrastructure fits best to their specific needs.

Fujitsu Siemens Computers is present in all key markets in Europe, Africa and the Middle East serving large, small or medium-sized companies or private consumers, while its Infrastructure Services division is active in 170 countries. The company benefits from the global cooperation and innovation power of both its shareholders, Fujitsu Ltd. and Siemens AG.

Fujitsu Siemens Computers is one of the pioneers in offering a complete range of environmentally conscious products and in using environmentally friendly technologies and processes throughout the entire lifecycle of a product.

For more information on Fujitsu Siemens Computers, please visit: www.fujitsu-siemens.com , for Corporate Social Responsibility please see www.fujitsu-siemens.com/aboutus/sor/index.html .