Fujitsu shows off interesting Lifebook TH40/D slider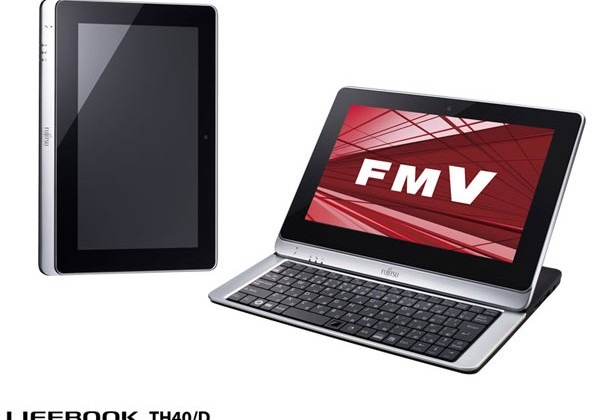 There are many popular tablets and slates on the market today and some consumers have to really think hard to decide if a tablet or if a netbook is the best thing for them when shopping. Fujitsu has a new computer model called the Lifebook TH40/D that has just debuted that blurs the line between a tablet, a slate, and a netbook a bit more than some of the other offerings that are on the market today. The machine has an interesting form factor that looks more like a smartphone design than a tablet or netbook.
The TH40 has a sliding form factor that reminds me of several smartphones that I have seen. The screen slides up and sits at a slight angle to reveal a keyboard underneath. The angle would make the screen more comfortable to view. Fujitsu calls the keyboard a "touch-type keyboard" which makes it sound virtual, but from the photo, it appears to be a normal keyboard with low profile keys. The screen of the machines is a 10.1-inch unit.
The overall thickness of the TH40 is 17.4mm and it weighs in at 1.1kg. That would make the machine very thin and portable. The TH40 will land in June and Fujitsu isn't giving up the price just yet. The company is also mum on the hardware specs of the TH40 as well, we don't even know the OS that will be used or what sort of processor will be inside the thing. We do know that it will be Blu-ray compatible with the use of an external drive, which likely means USB ports, and the screen is touch sensitive.