Fujitsu Scaleo Home Server updated with 2TB capacity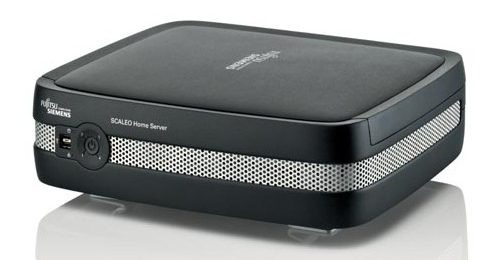 Fujitsu have updated their Scaleo Home Server range with two new models, adding capacity to the media streaming and NAS backup products.  The Home Server 2205 is preinstalled with two 1TB drives, while the Home Server 2105 is preinstalled with two 500GB drives; however there's room for a total of four drives in each.  Fujitsu have used Western Digital Caviar Green SATA HDDs, for reduced power consumption.
Four USB ports and two eSATA ports make adding external drives straightforward, and the Scaleo range has gigabit ethernet to connect to your network.  Fujitsu preload the Twonky Media Server for UPnP audio and video streaming.  Storage can be mirrored in a number of RAID setups for data security.
It's also possible to set the Scaleo NAS for access outside of the home network; you can also preset times for the unit to go into standby, thereby saving even more power.  More details here.