Fujitsu refreshes LIFEBOOK laptops with Sandy Bridge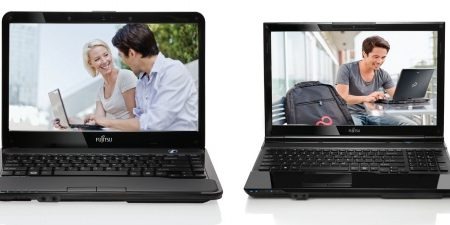 Intel is poised to launch its desktop and laptop Ivy Bridge processor shortly, but Fujitsu is content not chasing the latest and greatest. The company has refreshed two of its laptops using mobile Sandy Bridge processors, the 15-inch LIFEBOOK AH532 and 14-inch LIFEBOOK LH532. The designs of both laptops have alos been refreshed, with the AH532 seeing a chiclet-style keyboard, and the LH532 gaining a soft touch finish and integrated touchpad into the palmrest.
Both laptops will be powered by the dual-core Intel i3-2350M processor clocked at 2.3Ghz and feature the Intel 3000 HD GPU. Both will also have screen resolutions of 1366x768 and come with 4GB of DDR3 RAM as standard. The 14-inch model will come with a 750GB hard drive, with battery life lasting up to 6 hours and 30 minutes, while the 15-inch will have a 500GB hard drive a 7 hour battery life.
Intel Wireless Display will also be on board, as well as 720p HD webcams, and USB 3.0 ports. Bluetooth 4.0 also makes an appearance for all your low power gadgets. Both laptops are available today, and Fujitsu is offering them for a very reasonable sum: the 14-inch LH532 starts at $599, while the 15-inch AH532 will start at $549.