Fujitsu PRIMERGY TX120 S2 compact eco-friendly server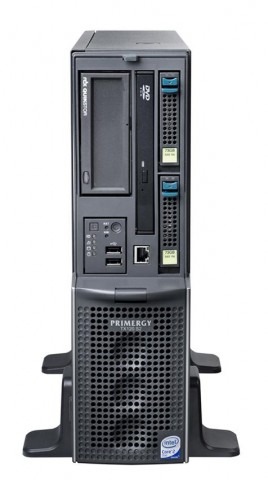 Fujitsu have announced a compact server that uses less energy than a desk lamp and offers a variety of RAID setups for home-office and small business users.  The Fujitsu PRIMERGY TX120 S2 resembles a compact desktop PC, but uses Intel's latest power-saving Core 2 Duo processors paired with up to 16GB of RAM and remote ServerView Server Management control.
Both the P8400 (25W) or T9400 (35W) CPUs are available, using 25-percent less power than rival systems.  As for storage, the TX120 S2 can be fitted with either four 320GB SATA or 146GB 15,000rpm SAS hard-drives.  Nonetheless, according to Fujitsu it's still whisper-quiet at 27dB.
Connections include eight USB 2.0 ports, VGA and serial, together with ethernet and a dedicated service LAN ethernet port.  The Fujitsu Siemens PRIMERGY TX120 S2 will be available from April 1st 2009, with the entry level configuration starting from €545 ($702). 
Press Release:
Fujitsu Siemens Computers' PRIMERGY TX120 S2 shows that the best things come in small packages

The most compact server in its class is also extremely quiet as well as energy- and cost-efficient

Small businesses looking for a well-mannered server need look no further than the new PRIMERGY TX120 S2 from Fujitsu Siemens Computers. Whisper quiet in operation and consuming less energy than a desk lamp, the latest version of the entry-level server takes up no more space than an A4 folder.

With the new PRIMERGY TX120 S2, the most-compact model in its class, sharing an office with a server no longer means having to put up with a space-hogging beige box producing constant background noise and causing temperatures to rise from its heat output.

The result is a server that is a real team player: it works quietly, efficiently, and always has enough capacity to take on even the most demanding tasks during the working day.

The second-generation PRIMERGY TX120 S2 offers increased functionality compared with its predecessor, with more operations per watt, and further reduces energy consumption. The TX120 S2 saves more than 25 percent on power compared to its predecessor, and features a new range of power-saving Intel® Core™2 Duo processors that also boost system performance. As a result, the server is equipped to meet the Energy Star 4 requirements.

Further improvements to the second-generation PRIMERGY TX120 include the increased capacity for onboard memory, up to 16 GB, plus more space for larger, lower-priced hard drives with a choice of RAID levels. The PRIMERGY TX120 S2 is easy to set-up and manage and can be maintained remotely within a network via the ServerView Server Management suite from Fujitsu Siemens Computers, resulting in reduced IT management costs.

An ideal choice for small businesses, branch offices and other organizations looking to save money, the PRIMERGY TX120 S2 is also cheaper to own and operate, thanks to its reduced power consumption and management costs. Furthermore, the PRIMERGY's low energy consumption means that businesses can be environmentally-conscious, without sacrificing server quality or performance.

Says Jens-Peter Seick, Senior Vice-President, Enterprise Server Business at Fujitsu Siemens Computers: "The new PRIMERGY TX120 S2 gives customers in small businesses and branch offices the best of both worlds – the benefit of support from a real server, and the saving on costs thanks to low energy consumption. As a bonus, small businesses using the PRIMERGY TX120 S2 may find that they suddenly have office space to spare, proving the old adage that the best things come in small packages."

The PRIMERGY TX120 S2 is available from April 1, 2009, and pricing starts at 545 Euros.