Fujitsu offers Esprimo Q1500 mini PC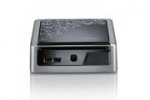 Mini PCs are great for business and consumers who are looking to save some space on their desktop and save energy with more power efficient systems. Typically these little mini PCs use Intel Atom processors and may not offer enough power for some users.
Fujitsu has unveiled a new mini PC called the Esprimo Q 1500 that has only weighs 1.7kg and is 5cm tall. That makes the little machine about the size of a CD case according to Fujitsu. Crammed inside the small chassis is some impressive hardware.
The rig uses an Intel Core 2 Duo CPU, 4GB of RAM and a 320GB HDD. Connectivity options include six USB ports and the machine slurps only 19W of power in idle mode. Fujitsu touts the quiet design of the machine too with only 17dB(A) when idle and 24dB(A) when processing. The system will ship this month for 699 Euros.