Fujitsu LifeBook V1010 - laptop for the budget conscious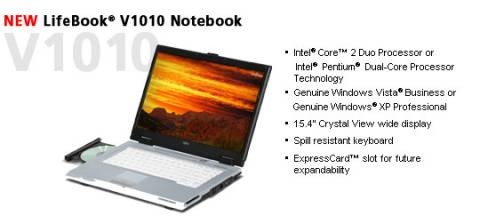 I love competitive market; it certainly makes consumer purchase more affordable. Many notebook vendors are making affordable laptop recently, and that includes Fujitsu. Fujitsu has announced a low cost laptop in addition to its LifeBook series.
The Fujitsu LifeBook V1010 starts at $799 with base features including 15-4-inch display, 120GB harddrive, DVD Burner, 1GB of RAM and spill resistant keyboard. Consumer is also given the option to choose Windows XP over Vista.
The base system comes with T2130 Dual-Core Pentium CPU, however for $100 more, you will be able to get 2GB of RAM and CPU upgrades to Core 2 Duo CPU (T5200). The laptop weight around 6.2lbs and available immediately from Fujitsu's website.
Fujitsu announces low-cost LifeBook V1010 [via crave]