Fujitsu kicks off updated FMV Series with four PCs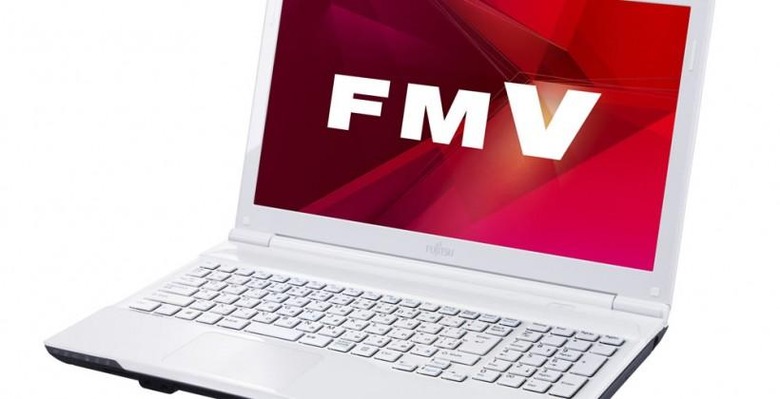 Fujitsu is refreshing its FMV Series lineup with four PCs, three of them in the Lifebook laptops and one Esprimo desktop PC. All four of the PCs are slated to be launched this month after a week apart from each other, starting with the desktop computer on June 7 and ending with the last Lifebook on June 28. No word yet on the prices.
First up is the Lifebook UH90/L, which is said to be the thinnest ultrabook currently available. The machine has a 14-inch IGZO display with a resolution of 3200 x 1800, which is nearly 3x the resolution of a full HD display. The display is a touchscreen, and features Super Glide Coating to make swiping easier. Inside, users will find a fourth-generation Intel Core i5 processor and 500GB hybrid hard drive. The laptop is designed specifically to be durable, able to handle 200kgf of pressure. This unit is slated for release June 28.
The other two laptops are the Lifebook AH45/K and the Lifebook AH42/K, which is featured above. Both appear to be lower end laptops, neither of which are priced yet. The Lifebooks weren't detailed very much in the announcement, with the only hardware info given being for the AH42/K, which features an Intel Premium Processor 2020M. This model features an average battery life of 7.9 hours, while the AH45/K features a battery life of 6.4 hours. Release date of June 14 and June 20.
And last but not least is the Esprimo FH78/LD desktop PC, which is loaded with Fujitsu's eye tracking technology. This feature allows users to perform certain actions, such as scrolling through Web pages and selecting Windows 8 tiles using eye commands. This provides a way to utilize Windows 8's touch-friendly design in a completely hands-off manner.
The desktop features a 23-inch IPS display with full HD resolution and wide viewing angles. Beneath the display is a cylindrical 30W speaker system, which is composed of dual 10W speakers an a 10W subwoofer. In addition, the machine offers 3TB of storage space. Slated to hit shelves on June 7.
SOURCE: Fujitsu