Fujitsu ESPRIMO MA Mobile Medical Companion with 3G & RFID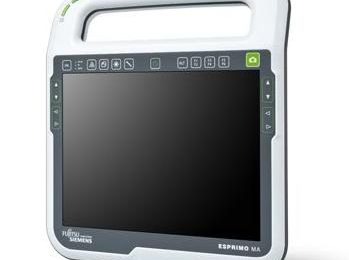 Fujitsu have announced a mobile medical companion, the touchscreen ESPRIMO MA Tablet PC. Fanless, and capable of being entirely sterilized, the ESPRIMO MA has a 10.4-inch display, integrated UMTS 3G and WiFi n, together with barcode and RFID readers. It weighs 1.3kg and has a dual smart card reader for security.
Both thin and fat clients can be specified, depending on the medical environment and infrastructure.  The MA uses an Intel Atom processor and has a hot-swap battery bay capable of offering full-day power.  As well as the data encryption, there's also a physical lock which can fix the tablet into its docking station.  An integrated digital camera, RFID transponder and Bluetooth round out the specs.
The Fujitsu ESPRIMO MA will be available in Q2 2009.  No pricing has been announced, but Fujitsu say to expect "that of a high configuration business notebook".