Fujifilm X-E1 and XF1 X-Series "low-cost" cameras appear in photos

Two new Fujifilm cameras have appeared in the camera leak stream today, both of them coming soon, it would seem, in Fujifilm's X-Series of high-end retro-casing shooters. The first of these is the pocket-sized XF-1 (aka XP-1 until we get some clarification) which will almost certainly bring on the least expensive set of specifications to the lineup this Fall. The other is the X-E1, a device that brings on what might be just a bit less power than the X-Pro1.
With the X-E1, we're to understand that we'll have a model that will out-do the X-100 but wont cost nearly as much as the X-Pro1. A lens mount is included here with a lovely XF Zoom-toting 18-55 lens (XF18-55mm F2.8-4 R OIS) with auto-zoom and some rather gigantic row grips for your manual zooming and focusing needs. This device has a retro styling not unlike other recent Fujifilm contributions to its X-Series and has a lovely accessory mount up top.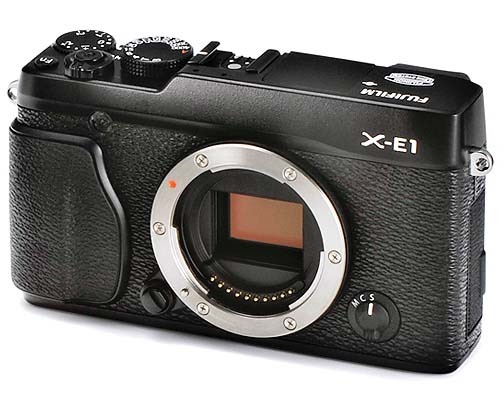 The XF1 appears to be coming in one color while the X-E1 has two different style choices as it stands today – one all black and the other a combination silver and black. The X-E1 will be coming with a built-in flash as well as an electronic viewfinder in the back. The XF1 is, again, a compact camera that will have rather basic funtions to it. It's got a 4.0x f = 6.4 – 25.6mm 1:1.8-4.0 lens up front with manually adjustable zoom and focus, and its retro styling offers up some lovely grip all around.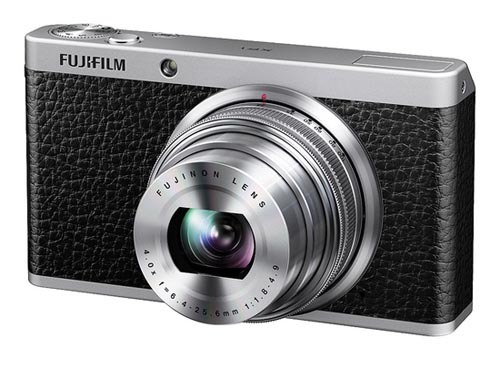 This XF1 camera also has a physical switch to turn on/off it's built-in pop-up flash, and the controls along the back consist of both buttons and dials for your menu navigation. This device also obviously has a rather nice LCD display for making it all work. Both of these devices will more than likely be popping up in the confirmation pile soon!
[via FujiRumors]