Fujifilm X-A3 Images Leak Showing A Slick Retro Design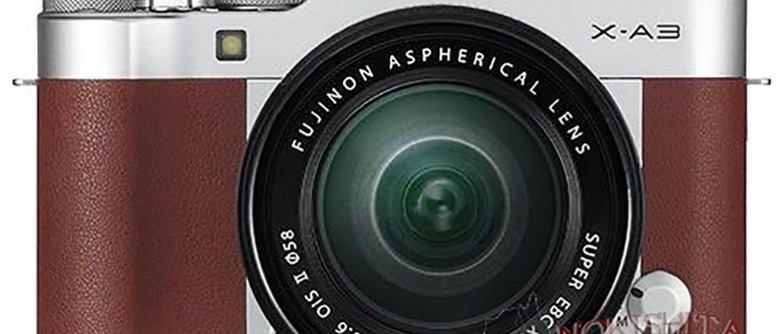 Fans of digital mirrorless cameras have a new offering to look forward to called the Fujifilm X-A3. Several images of the new digital camera have leaked onto the web showing what the camera will look like when it finally hits the market presumably soon. The body of the camera is silver color and judging by the high-end look of the device, that body is likely to be metal.
The brushed silver color is common to all of the versions of the device with the only change being the color of the leather that covers the grip areas. It may not be real leather, that material could be vinyl of some sort, the exact material is unclear. The material comes in red, brown, and black colors.
Specifications of the camera are unknown, there is no Megapixel number anywhere to be seen and no specifications leaked along with the photos. We do know something about the kit lens that the camera will come with. It is a Fujinon Aspherical Lens listed as a Super EBC XC 16-50mm 1:3.5-5.6 OIS II offering.
The shot of the rear of the camera shows several knobs and buttons for controls and it appears that the camera has a hot shoe for connecting accessories. There is a play button and a record button indicating video recording capability. The rear LCD appears to be quite large and dominates the back of the camera. There is no viewfinder to be seen which is common for cameras of the type. We have no idea exactly when the camera will launch of how much it will cost. The last new Fujifilm camera that we talked about was the larger X-T2 back in July that can record 4K video at 30 fps.
SOURCE: Nokishita