Fujifilm X-A1 unveiled, interchangeable-lens camera with APS-C CMOS sensor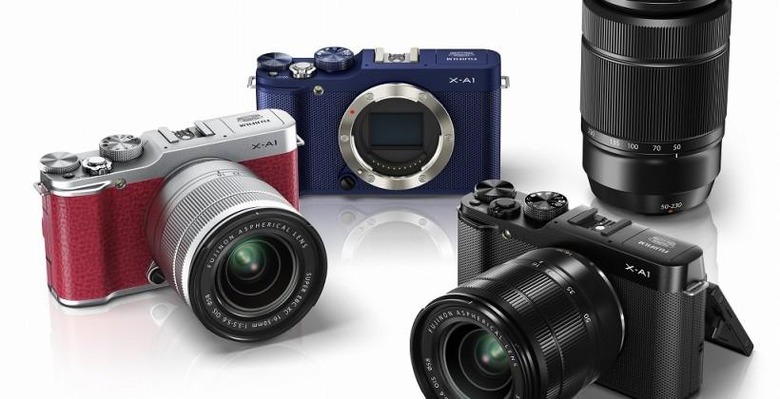 Fujifilm has just announced its latest interchangeable-lens camera, the Fujifilm X-A1. Building on the company's X series of cameras, the X-A1 is an entry-level device that not only offers a bevy of powerful features such as an APS-C CMOS sensor and an EXR Processor II, but also comes in a lightweight, easy-to-use, and aesthetic package.
The Fujifilm X-A1 has just the right blend of power and usability, making it suitable for beginners or hobbyists while not skimping on features. With a weight of 330 grams, the X-A1 is light enough to be held in one hand, a point that Fujifilm brings to home by putting the essential dials and buttons all on the right side of the camera. The controls are designed to let users quickly get to the setting that they want, for example, switching from shooting stills to video recording instantly at the push of a button.
The X-A1 features a large 16.3 megapixel camera with an APS-C CMOS sensor that gives it a sensitivity range from ISO 200 up to ISO 25600. The lens also features an out-of-focuse "bokeh" effect that's usually created when shooting with a shallow depth of field. The camera is also equipped with Fujifilm's EXR Processor II. Shutter time lag is measured at only 0.05 seconds, allowing a burst speed of 5.6 frames per second for a maximum of 30 frames. For best results, Fujifilm recommends setting the image format to JPEG and using a class 10 SD card.
The camera sports a 3-inch LCD display that can be tilted to allow for multi-angle shots such as a worm's or bird's eye view. It also has a built-in wireless image transfer that can be used with the free Fujifilm Camera App to instantly transfer photos to a smartphone or a PC via WiFi.
As part of the Fujifilm X series, the X-A1 is compatible with all Fujifilm X Mount lenses, especially with the two recently announced Fujinon XC lenses: the XC16-50mm and the XC50-230mm The camera will come in three color options of black, blue, and red while the XC lenses come in only black and silver.
SOURCE: Fujifilm