Fujifilm unveils new waterproof XP170 digital camera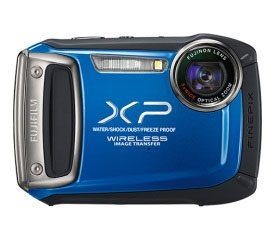 Fujifilm has unveiled a new digital camera called the FinePix XP170. The camera has a 14-megapixel resolution and is waterproof to 33 feet. The camera can survive drops from 6.5 feet and temperatures as low as 14°F. The camera is also dustproof and clearly aimed at outdoorsy types that need a rugged camera that can survive adventures.
The camera also has an interesting Wireless Image Transfer feature that can wirelessly shoot photographs from the digital camera to other devices. The wireless feature works in conjunction with an app available for iOS and Android smartphones and tablets that allows the camera access to the devices and the ability to upload photos to social networks. The camera also has 1080p HD video recording at 30 frames per second.
The wireless transfer feature works a lot like the EyeFi wireless memory card. Fujifilm's system doesn't use Wi-Fi though and only offers connectivity via the app so to upload on the go from your smartphone or tablet, it will need web connectivity. The XP 170 will ship this June for $279.99 and blue or orange versions.
[via PCMag]