Fujifilm Instax Mini LiPlay camera adds audio to your instant photos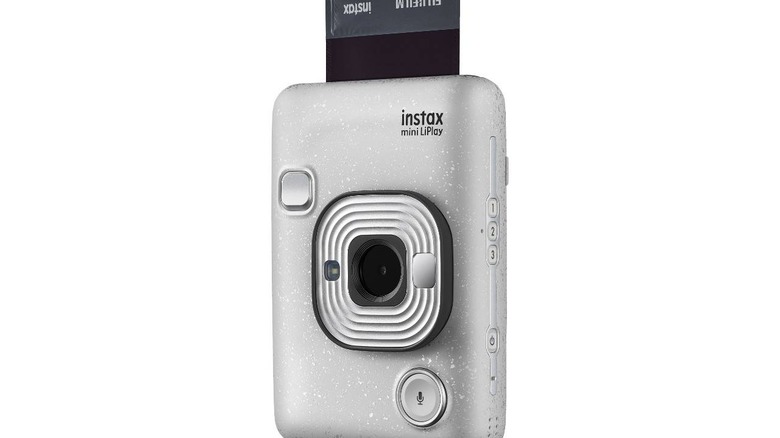 Fujifilm has announced that it's expanding its Instax line with a very interesting camera. Dubbed the Instax Mini LiPlay, this new camera allows you to instantly print the photos you take, but it does so with a twist. In addition to taking and printing photos, you can also capture the audio from the moment the picture was shot and play it back by scanning a QR code that appears on the printed image.
Necessary? Hardly. Interesting? Definitely. The LiPlay has a button dedicated to capturing audio, and when you press it, it'll record up to 10 seconds of sound. From there, your image will print with QR code on it, which can be scanned with your smartphone to view the image and hear the audio together. While we imagine that most audio clips will amount to nothing more than people shouting the word "smile" at each other, the sound functionality could be a nifty tool for reliving some particularly happy memories.
The LiPlay supports two different kinds of Instax film: the Confetti mini-format and the Star-Illumination square format. You don't have to print all of the photos you take, though, which is good news indeed because each Instax film stack only includes enough film for 10 pictures. The LiPlay has enough internal storage for around 45 photos, though you can also add a microSD card to expand on that.
The 2.7-inch LCD display on the back will let you cycle through your stored photos to help you find the best ones for printing, but you're not limited to only printing the photos on your LiPlay. You can also connect your phone to the camera and print photos in your camera roll using the LiPlay's "Direct Print" feature.
Other specifications include an capture resolution of 2560 x 1920, a battery that's said to last for 100 prints on a full charge, a 1/5-inch CMOS sensor, and a remote shooting function that lets you control the camera and snap pictures from your smartphone (assuming you've got the LiPlay app, which is also required if you want to capture audio). It's definitely not the most capable digital camera around, but it should be a decent choice for people who like instant cameras. We'll see the Instax Mini LiPlay launch on June 14th at $160.