Fujifilm INSTAX Mini Link Has A Few Odd Features For Smartphone Users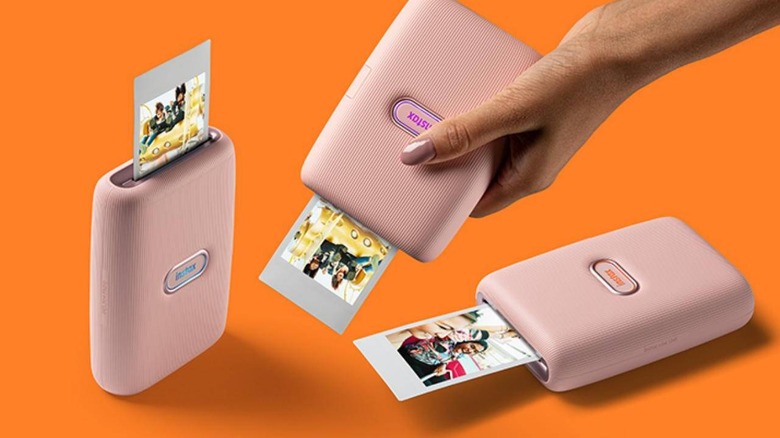 While camera makers have more or less embraced digital, some still try to appeal to nostalgia with printouts. Smartphone photo printers are all the fad with the younger crowd and Fujifilm's INSTAX is one of the brands that got there first. It hasn't stopped churning such portable printers almost ad nauseam but, admittedly, the newest INSTAX Mini Link does have a few tricks up its sleeves that make it more interesting, even if not that compelling.
The standard function of a portable smartphone photo printer is pretty simple. You send a photo from your phone to the printer and the latter prints out, usually with zero ink technology. Often that is done via a mobile app that lets users embellish their photos with frames and stickers.
The INSTAX Mini Link definitely has the staples and even adds a new mode to the app. With Video Print, users can play a clip and choose a specific moment to "freeze in time" and print out. A party favorite also makes a return, combining photos from up to five phones into a collage, either neatly arranged or, better yet, as a random surprise.
The printer, however, has one feature no other smartphone printer has to date: motion sensors. Those sensors can be used to tell the printer what to do, like printing multiple copies by holding it upside. More interesting, and almost ridiculous, is using the printer as a motion-driven remote control for the smartphone camera. Zoom in or out by tilting the printer and press the camera to snap a photo.
Whether those features will be enough to make the Fujifilm INSTAX Mini Link a hot sell is still debatable. For those indeed interested, the printer will go on sale on October 4 for $99.95. As interesting as the ideas may be, do be reminded that you are limited to printing on INSTAX paper, Fujifilm's ironic homage to its rival Polaroid's iconic format.