FujiFilm FinePix Super-Zoom S1500 unveils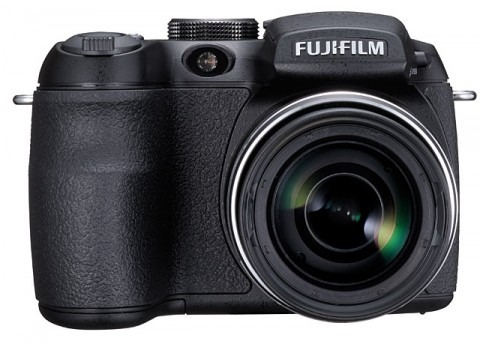 Fujifilm has today announced the successor to its popular FinePix S1000 with FinePix S1500, an affordable super zoom compact digicam features a 10 megapixel image sensor, 2.7-inch LCD and a Fujinon 12x optical zoom lens with 35mm equivalent distance of 33-396mm.
Aside from a digitally CCD-sensor shift image stabilization, the S1500 advertises having shutter speed and high ISO sensitivity adjustments as part of their image stabilization technology. More features on this camera includes an automatic scene recognition, Face Detection and an unique "Instant zoom" gimmick that will continue adjusting zoom distance to sustain one subject size.
The Super-Zoom S1500 falls short compare to similar super zoom class from the Nikon P90, Kodak Z980 and Olympus SP 590UZ, but it doesn't cost as much. It's shipping from March with a suggested retail of $249.
Valhalla, NY, February 17, 2009 – FUJIFILM U.S.A. Inc. today announced the successor to the wildly popular FinePix S1000 with the introduction of the FinePix S1500.

Ideal for advanced amateur photographers who are looking for an affordable, SLR-styled digital camera, the 10-MegaPixel FinePix S1500is wrapped with an eye-catching black casing and has a Fujinon 12x optical zoom (33mm-396mm equivalent) offering great range and flexibility. Building on the legacy of Fujifilm's S-series digital cameras, the FinePix S1500 includes Fujifilm's Dual Image Stabilization and SR Auto (Automatic Scene Recognition).

Automatic Scene Recognition

SR Auto (Automatic Scene Recognition) enables the FinePix S1500to intelligently recognize six types of scenes automatically. For each picture taken in this mode, the S1500 will optimize the ideal exposure, focus, white balance and ISO for the scene to ensure the best quality picture is captured with ease.

Dual Image Stabilization

Dual Image Stabilization is a marriage of mechanical sensor shift stabilization, to steady the photographer's hand, and Fujifilm's Picture Stabilization Technology, which uses fast shutter speeds with ISO high sensitivity, to prevent virtually all types of image blur. As a result, an increase in clarity and sharpness is achieved, even in low lighting conditions.

Rounding out the FinePix S1500 powerful feature set is a large 2.7" high-resolution (230k dots) LCD, electronic viewfinder (EVF) and ISO levels of up to ISO 1600 at full resolution.

Fujifilm's FinePix S1500 also offers the following useful features:

* Full Manual Photographic Control: Photo enthusiasts and advanced photographers have total control with manual adjustment options for various camera settings including resolution, ISO, aperture, shutter speed and more.

* Face Detection with Automatic Red Eye Removal: Face Detection operates by identifying and prioritizing faces in a framed scene, and then adjusting the focus and exposure accordingly to ensure the sharpness and clarity of human subjects in the picture, regardless of background. After a shot is captured, each detected face is instantly checked for red eye. If it is found, it is corrected automatically, saving the time-consuming process of fixing it later.

* Instant Zoom: Instant Zoom makes it easy to frame and compose shots with moving subjects at high zoom settings. A selectable frame on the LCD screen lets you bracket and track the subject in standard wide view. When the shutter is released, Instant Zoom boosts the zoom ratio and captures only the enlarged area as a full-sized image, keeping the subject in the frame.

* Continuous High Speed Shooting mode: This mode allows moving subjects to be captured by shooting high-speed shots of up to 15 frames at 7.5 fps at 2MP and six frames at 3.3 fps at 5MP.

* Panoramic Shooting mode: Users can capture, combine and save a maximum of three consecutive shots at 3MP resolution each as a panoramic picture.

* Movie Recording: VGA quality at 30 frames per second with sound.

* 14 Pre-programmed Scene Modes: The FinePix S1500 features 14 pre-programmed scene modes that offer a one-touch setting for almost any situation.

* SD / SD-HC Compatible slot: A single media slot that accepts SD/SD-HC media cards.

* Operates on 4xAA Batteries: The ultimate in convenience and accessibility, using AA batteries means in a pinch, more batteries are just moments away. Four x AA alkaline battery power delivers 300 shots and up to 700 shots using lithium AA battery.

"Fujifilm's FinePix S1500fd offers advanced amateur photographers an affordable, SLR-styled digital camera," said David Troy, marketing manager, Consumer Digital Cameras, Electronic Imaging Division, FUJIFILM U.S.A., Inc. "Sporting a Fujinon 12x Optical Zoom for greater range and flexibility and Automatic Scene Recognition, the FinePix S1500 offers its user an efficient, feature-rich digital camera making it easy to capture amazing images."

The FinePix S1500fd will debut in March 2009 at a retail price of $249.95.