Frugle speakers are monstrous fun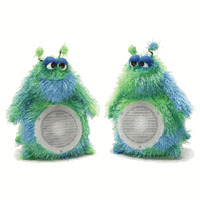 With Christmas nearly upon us, you're bound to be looking for some stocking fillers for young nieces and nephews.  Well, your search is over – introducing the hyper-furry Frugle speakers.  Compatible with iPods, laptops, iPods, hifis, iPods and the Apple iPod, thanks to an perfectly standard mini-jack connector, the slightly stoned-looking pair boast confess to having 0.2 watts of stereo sound and run on either AA batteries (allowing up to 18 hours of pretty quiet music) or a USB connection. 
Suitable songs for playing on the Frugles would include Monster Mash by Bobby "Boris" Pickett, anything from REM's Monster album and the entire back-catalogue of Barbara Streisand.  They cost a paltry $24.99.