Fring Gets Google+ Hangouts-Style "Playgrounds" Group Video Chat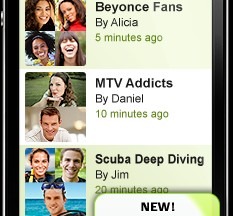 Popular four-way video chat app, Fring, has just added a new feature that they're calling "Playgrounds." This addition seems to mimic the Google+ Hangouts feature in that it lets people more freely and casually join in on group video chats. But Fring takes it a step further by making Playgrounds group chats completely open so that people who join in do not have to know each other first.
Also unlike Google+ Hangouts where groups as large as ten could be on a single group video chat, Fring's Playgrounds are still limited to its traditional format of four participants at a time. Playgrounds are created around shared interests. They can be created by anyone and anyone can join them.
If this sounds all too open for you and you'd rather avoid the chance meeting with a stranger keen on exposing themselves, Fring still offers its usual private group chat features that lets you chat with up to three other friends. The app is available on iPhone, iPad, and Android devices.
[via Electronista]