Freestyle Audio Waterproof MP3 Player available for pre-order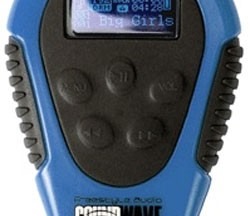 It's still cold in most parts of the country, but the warm weather will be here before you know it. Once the weather starts getting warmer people will be heading to the beach and lakes to spend time in the water. You might like music with you when you go to the beach, but you might not want to use your iPod near the water for fear of getting it wet.
A company called Marinemart has announced that it is taking pre-orders for a new waterproof MP3 player called the Freestyle Audio Waterproof MP3 Player with Screen. The player is waterproof and shockproof so it will stand up to active outdoor use.
It has 2GB of onboard storage and comes with waterproof ear buds. The player can be submerged in up to ten feet of water and supports MP3, WMA, and WMA DRM files. The little screen is an OLED unit and it has EQ presets and a FM tuner. The player will sell for $89.99.