Free HTC HD2 on sale at Vodafone UK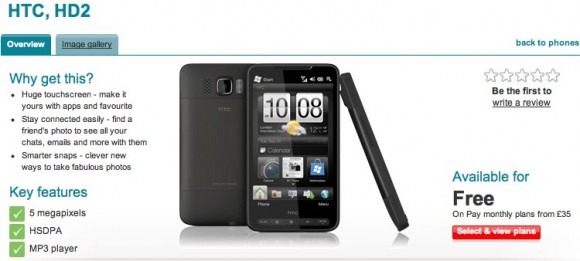 Ah, the HTC HD2.  We liked it, Michael Gartenberg liked it – it's love all round for this 4.3-inch hybrid smartphone/MID crossover device.  While we're sure you were happy enough to hear us tell you how great it is, our UK readers (and well-heeled, impulsive US people) can now try it out for themselves as Vodafone have begun selling the HD2.  Best news?  It's available free on contract.
Anyone content to sign up to a two-year agreement and pay £35 ($58) or higher per month can take away the HD2 without putting a penny down for the handset itself.  That gets you 900 minutes to other mobiles, and unlimited landline calls, SMS and internet access.  Overall you'll be paying £840 ($1,393) over the course of your contract; buying an HD2 outright and SIM free is currently around £500 ($829) from online retailers, and you might struggle to find an unlimited internet tariff for £14 per month over the next two years.
Meanwhile O2 UK are tipped to be launching the HD2 themselves on November 23rd, so there's a couple of weeks to wait if you'd rather go with them.  US buyers who aren't content with EDGE speeds – the Euro HD2 lacks US 3G support – will have to wait until early 2010, when it's expected to land on "a major carrier" as-yet unnamed.
[via CoolSmartPhone]