Android app downloads could get a lot more confusing in Europe, with Google agreeing to cease referring to titles with in-app purchases as "free" in the Google Play store, while Apple has been criticized by the EU for not committing to a similar system. Responding to concerns by the European Union around how "free" titles can be misleading as they subsequently push in-app downloads, Google agreed that no title with IAP content will be labeled as free as of the end of September this year. Meanwhile, Apple has also responded to the EU critique.
At the heart of the issue is a spate of complaints by smartphone owners about in-app purchases and the potential for their misuse, particularly if they target children. Some parents have seen their offspring rack up hundreds of dollars worth of downloaded content, lured in by add-ons and game packs.
As a result, the EU challenged Google and Apple to address the problem, which has also seen several lawsuits spring up around EU member states.
Google's approach has been to change how app pricing is listed, no longer describing a title as free unless it does not have IAP content. The default settings for IAP have also been changed, with Google planning to require authorization before every purchase, unless the device owner explicitly chooses otherwise.
Google will also cook up new guidelines for developers around how they should avoid "direct exhortation to children" to buy add-ons, in addition to making clearer how parents can complain or contest such charges.
Regarding Apple, "regrettably" there have been no "concrete and immediate solutions" with a timescale for implementation suggested, the EU says. That's despite Apple changing its policies around IAP alerts after a run-in with the FTC in the US.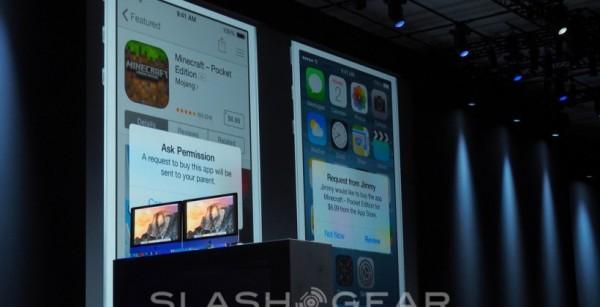 Meanwhile, in iOS 8 there'll be new purchase permission controls, Ask to Buy, to lock-down inadvertent kid purchases. Should someone try to download paid content, there'll be a pop-up first requiring approval on the device registered to the person paying the bill.
Apple says it will continue to work with the European commissioners to settle the matter, and argues that its own controls – both now and planned – "go far beyond the features of others in the industry."
How the changes will affect app developers themselves remains to be seen. Free software has proliferated on both iOS and Android, with IAP content seen as an alternative route to monetization to an upfront fee which could prove off-putting in the increasingly crowded stores.
Without the "free" billing, however, some apps may struggle to gain the same attention. For the moment, the changes will only affect users in European countries, though it's likely that the FTC will be watching with interest as the story pans out.