Free Amazon Fresh Grocery Delivery Is The Latest Prime Perk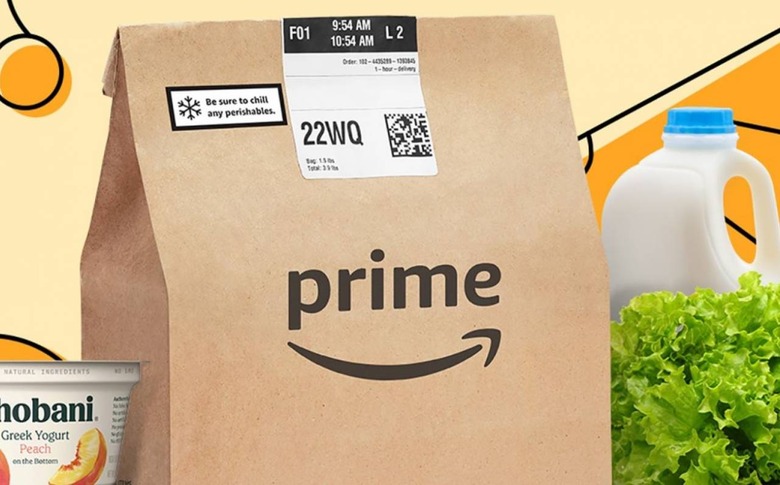 We may receive a commission on purchases made from links.
Amazon is making some big moves today with Amazon Fresh, its grocery delivery service. The company announced that it's rolling Amazon Fresh into Prime, making it one of Prime's baseline benefits. Before today, Amazon Fresh cost $14.99 per month, so this is a pretty big perk if you happen to be subscribed to Prime.
Amazon Fresh, for the uninitiated, is a service that allows for "ultrafast" grocery delivery from either Amazon proper or Whole Foods. Amazon says that it's improved delivery speeds in most regions where Fresh is available, bringing delivery times down to one or two-hour windows.
It isn't really surprising to see Amazon Fresh get added to the list of Prime perk, especially since we're in something of a grocery delivery renaissance at the moment. There are already a number of companies like Shipt and Instacart that delivery groceries from a variety of stores, and on top of that, a number of grocery chains have rolled out in-house delivery of their own.
By making Amazon Fresh free, Amazon can potentially gain ground in a crowded market and make itself one of the go-to grocery delivery services out there. That means we'll likely see Amazon attempt to expand the coverage range of Fresh at a fast pace – the company today said that Fresh now operates in more than 2,000 cities and towns across the US, but there's still more work to be done on that front.
Even though Fresh is becoming a Prime benefit today, you'll still need to request an invite to the service before you can use it, which can be done over at the Amazon Fresh website. After you've requested an invite, Amazon will let you know when you can begin shopping, so keep an eye on that inbox.