Foxconn factory opens back up after yesterday's brawl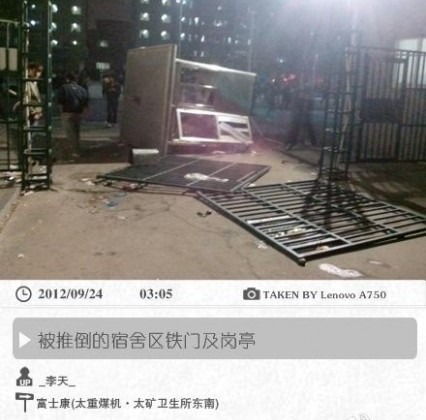 We mentioned yesterday that a massive brawl broke out in a Foxconn factory in China that involved about 2000 workers. The massive fight reportedly injured about 40 people and stemmed from some sort of personal dispute between workers and a restaurant owner according to early reports. The Foxconn plant was closed because of the massive fight.
The factory has now reopened with production set to begin again. Foxconn and local authorities say that the cause of the fight is still under investigation. The brawl comes at a time when people in China have been acting out, at times violently, against Japanese companies.
Foxconn has so far declined to say whether the closed factory will affect availability for the iPhone 5. While we heard yesterday that the fight was a result of the disagreement between a restaurant owner and workers, new reports indicate that the violence may have started between a factory worker and a guard at the facility.
One source cited by the AP said that the violence was the result of workers who are angry at how they're treated by Foxconn security guards and managers. Foxconn has been the source of investigations before over unfair labor practices. Workers say that they have no way to voice grievances hinting that violence such as what occurred this week is their only option.
"Foxconn, some supervisors, and security guards never respect us," said the employee, who asked not to be identified by name. "We all have this anger toward them and they (the workers) wanted to destroy things to release this anger."
[via AP]