Foursquare adds new Save to Foursquare and Follow buttons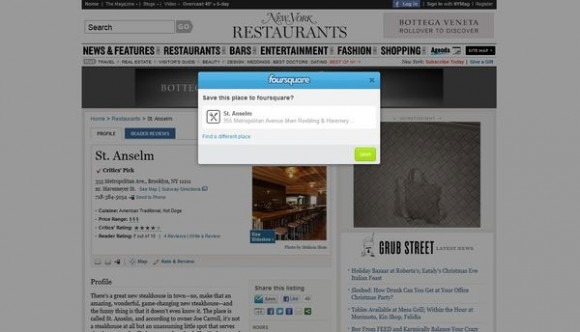 When it comes to social networking most all of the big sites have special buttons that make it easy for you to share content you find with friends on the network. Facebook has the Like button, Google+ has the +1 button, and Foursquare is now getting a couple new buttons of its own. Foursquare now has a save to Foursquare button and a follow button that are being rolled out.
The buttons have to be implemented by the people that operate websites that you visit before you can use them. The Save to Foursquare button for instance allows the user to save stories and reviews of items or places to their foursquare to-do list. The save button presents the content back to the user on their account at Foursquare with the branding of the site it was saved from.
The foursquare buttons are implemented on some sites online already thanks to launch partners. Those partners include Frommer's Travel, Eater.com, New York Magazine, and several other popular websites around the web. Perhaps the largest of the launch partner sites is CBS. The follow button allows the Foursquare user to follow a person or a website from their account.
[via LA Times]