Four things to know about the Lenovo C40 AiO PC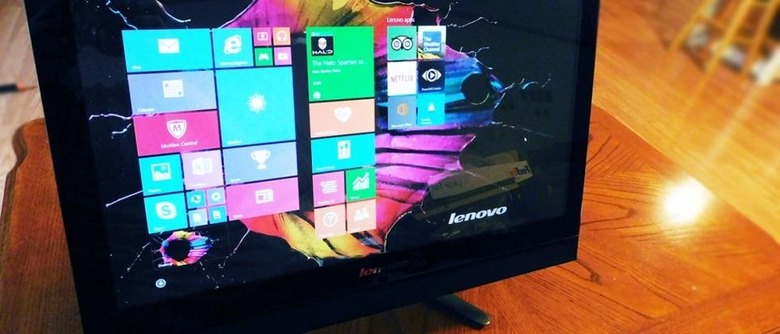 Lenovo has another all-in-one PC available, and this one is targeted at the every-person. The PC user who needs to do a little bit of everything and nothing too demanding: homework, research, a business report or two. We recently reviewed it, but maybe you haven't gotten around to reading it yet. Be sure to check it out to find out everything the system has to offer, but in the meantime we've picked out the most pertinent details, the things you likely want to know and don't have the patience to hunt down for yourself. Read on for all four.
1. It is budget-friendly
Is the first question on your lips when you see a new product How much does it cost? If so, you'll likely be happy to hear the Lenovo C40 is priced at $599.99 USD (thought Amazon has it for $499), making it one of the lower priced all-in-ones out there that runs Windows rather than Android. This positions it as a possibility for students, families, and those with modest demands.
2. It has a lot of connectivity options
Hate having to use adapters and hubs for plugging all your stuff in? The C40 has five USB ports and two HDMI ports, an SD card slot, Ethernet, Bluetooth, and WiFi, meaning you're likely going to find an option for connecting all of your devices — especially if you swap out the included wired keyboard and mouse for wireless ones.
3. It comes with everything you need
As with other all-in-one systems, the Lenovo C40 comes with a keyboard and mouse. They are, however, both wired models and fairly generic in nature (the keyboard has broad keys, though), so if you're expecting a wire-free desktop anticipate having to shell out for your own Bluetooth keyboard and mouse.
4. It is not the most powerful AiO
Of course, the mid-tier pricing means you're also going to be getting more modest specs. If you're looking for a more powerful all-in-one PC, Lenovo's A740 (check out our review) will suit you just fine. The C40 is certainly not underpowered, and if you're an average user you'll find the machine is perfectly capable. Just don't grab this model if you're planning to play demanding games at high settings, or if something like bitcoin mining is part of your daily activities.