Four things to know about the Gogoro electric scooter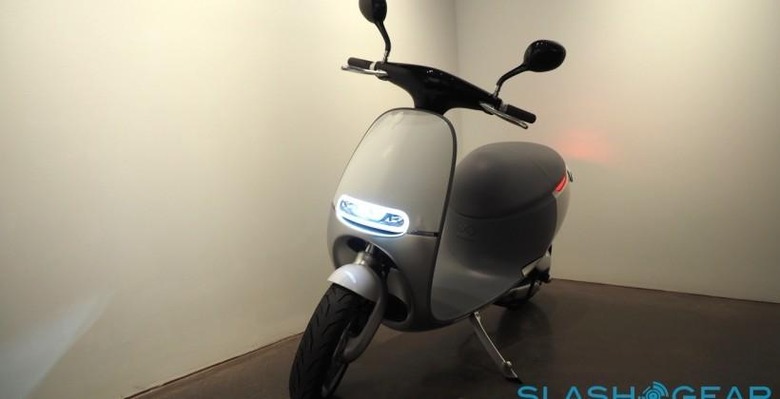 Gogoro made an impact at CES this year, with their electric scooter concept taking shape. But what is Gogoro? Is it a simple plug-in scooter you'll be able to slip around the neighborhood in, or is it more? Attempting to set a precedent for what's next for scooters, Gogoro follows the lad of auto manufacturers like Tesla, who are aiming to reduce our dependency on oil. Like Tesla, Gogoro depends on battery technology, and may need a little clarity added to the conversation surrounding it. Here are four points to keep in mind about Gogoro.
It's not just some scooter
Look, Gogoro is a scooter, but it's not some showroom floor dud. Nobody took a Vespa and retrofitted it. Gogoro was designed to be a Gogoro, and has a custom powertrain, chassis, and suspension. All the accompanying electronics are made specifically for Gogoro, too.
Gogoro is also pretty light at 247 pounds sans-rider. There's a lot of aluminum, here, which keeps the weight down, but also reduced the energy consumption.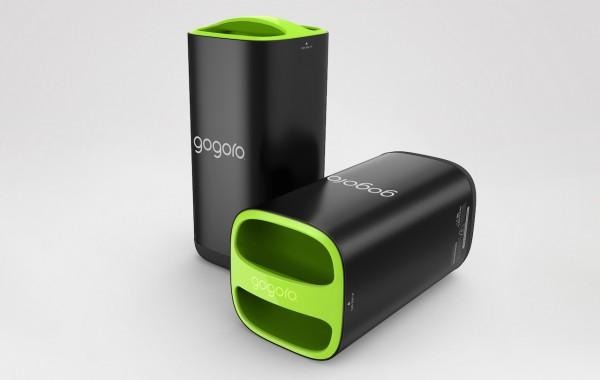 The batteries are swappable
You want to plod around the city all day, and Gogoro wants to let you. The average distance you can travel on a single battery is anywhere between 30 and 60 miles. The scooter holds two batteries, but if you're out and about but low on power, you'll need new ones.
Gogoro has battery stations planned to let you swap out your depleted cells for new ones, letting you go on with your day. Via their planned Gogoro GoStations, you'll be able to pull up, swap a battery, and go on with your day.
The NFC-capable batteries also have a 2,000 cycle lifespan, and take about 60-90 minutes to power all the way up.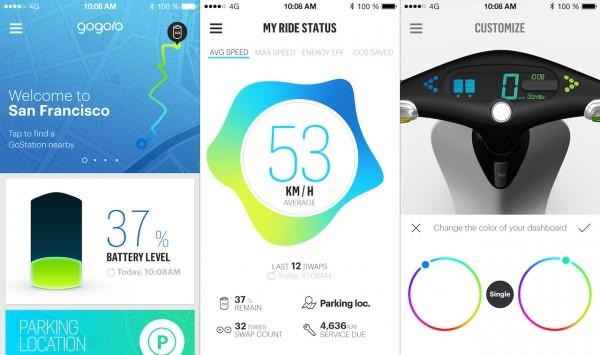 There's an app
What's a smart scooter without an app, right? Gogoro knows you've got a phone in your pocket or bag, and they're capitalizing. The app can memorize where you parked, and even keep some stats on your driving. It also lets you know your battery level, so you can plan a charge accordingly.
The app also tells you where the nearest GoStation is, so you know when you'll need to power up. The app and gogoro also learn your driving style, and can reconfigure estimated drive-time based on how you scoot around.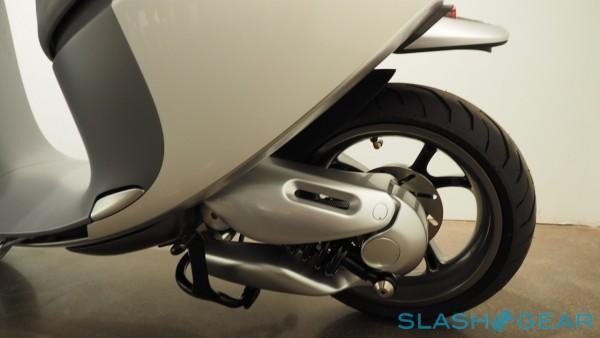 Gogoro is pretty powerful
The average scooter has a 125cc gas-powered engine. Gogoro's engine puts out 8.58 HP and 18 lb.-ft. torque. According to the Gogoro team, theirs is about 16% more powerful than the scooter you see on the street.
Gogoro can hit around 30mph in four seconds, and can even do some (very quiet) burnouts.
You can also cut corners, if you dare. Gogoro is balanced so that you head will be at the pinnacle of a near-perfect triangle, which makes it more stable as you lean into curves.
The batteries powering Gogoro are also heavy-hitters. According to the Gogoro team, they can power a house for an hour, or run a furnace for an evening.