Fotokite Phi drone is a flying camera on a leash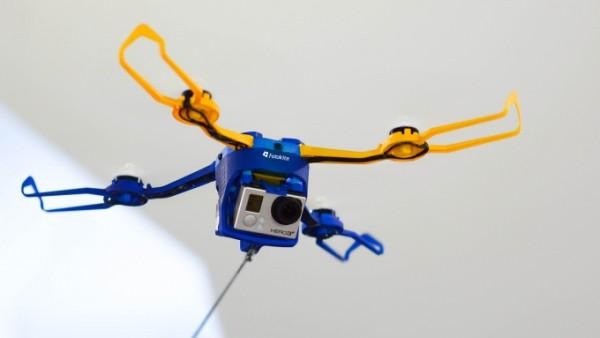 While consumers drones become more advanced with features, the way to use them through remote controls or mobile apps also becomes more complex. Drone maker Fotokite has debuted its first consumer model, the Phi, that aims to make aerial photography as easy as holding a leash. The Phi has the now-standard quadcopter design, but with a retractable tether, allowing it to fly between 1 and 26 feet away from the operator, while automatically recording from a user-supplied GoPro camera.
Fotokite's Phi is meant to be simple and affordable, and as such doesn't feature GPS or landing gear. Its battery life is about 15 minutes, including power supplied to the GoPro. The trade off is that the Phi is inexpensive, costing only $349 on the just-launched IndieGogo campaign.
The company also makes a pro model of the drone that is used by media organizations including the BBC. That version is specially built for live broadcasts, thanks to battery power being supplied through the tether and mobile network connectivity.
Fotokite says they are planning to make the drone's remote connect with the GoPro, allowing users to start and stop recording as well as change shutter settings while the drone stays in the air. The Phi's IndieGogo is for pre-orders, with shipping to start in early 2016.
SOURCE Fotokite