Fossilized dinosaur eggs cluster found in China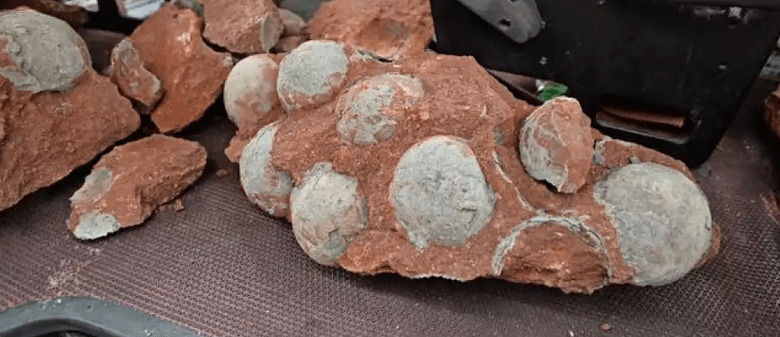 Dinosaur discoveries are nothing new in China, and it has recently been the source of yet another discovery. According to state media, a total of forty three dinosaur egg fossils were discovered in a southern China region during road construction. Says the reports, the eggs are large, with one in particular measuring in at 13 centimeters in diameter. Of the forty three that were found, nineteen of them are said to be entirely intact, while the rest are broken in some way.
Which dinosaur species the eggs belonged to hasn't yet been determined, though work to identify them is underway. They were in the Guangdong province, in Heyuan, and are being analyzed at the Chinese Academy of Sciences.
This part of China is rich with dinosaur egg fossils, according to reports. There are said to have been 17,000 or so egg fossil fragments found in the region since 1996, when the first discovery was made. This particular discovery, however, is notable because it is said to be the first discovery of this nature found in the city's central parts.
It is expected that additional discoveries like this will be made in the future in this area. It is also possible that some are found but not reported, meaning the actual number discovered could be higher. SCMP reports that a Heyuan farmer was caught back in 2004 with 557 dinosaur egg fossils in his home.
SOURCE: South China Morning Post