Fossil watch concept uses Bluetooth to pull info from your smartphone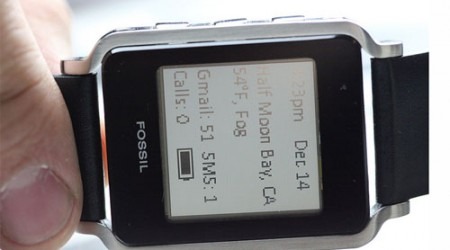 Watches with Bluetooth inside that can show you data from your smartphone are nothing new. Most of the watches I have seen have been from lesser known brands though. Fossil is a well known brand of watch with some nice looking and stylish offerings that are generally affordable by the average geek.
Fossil has shown off a new concept watch that uses Bluetooth to connect to your iPhone, Android device, or any other Bluetooth packing smartphone and show you details for the phone on the small watch screen. The idea is that the watch can show you who's calling with caller ID, weather, text notifications, and more data so you can get the details without needing to pull your phone out of your pocket.
The watch looks cool, but I'm not sure this is something that most geeks are interested in. I can see a bit of benefit in the concept though. I could see who is texting me while I was driving without having to dig out my phone. This is sort of like a wrist mounted LiveView.