Fossil Hybrid HR smartwatches hide impressive tech inside analog design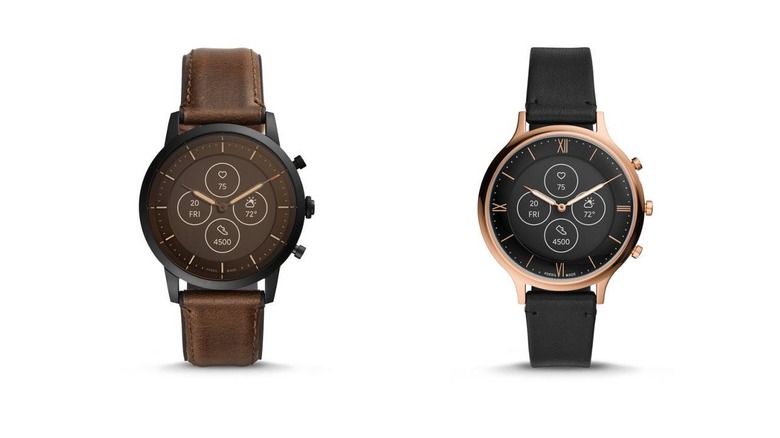 Throughout the years, Fossil has attempted to stand out in a sea of other watches through its hybrid lines – devices that look like conventional watches but have the feature sets of smartwatches. Today, the company announced its new Hybrid HR smartwatches, which are comprised of two lines: Hybrid HR Collider, which is aimed at men, and Hybrid HR Charter, which is aimed at women.
Design seems to be the major difference between the Collider and Charter lines, as Collider watches available with dark brown leather, smoke stainless steel, and black silicone bands. The Charter line, on the other hand, is available with black leather and rose gold-tone stainless steel mesh bands.
Regardless of the watch you ultimately choose, you'll get an always-on display that can be customized by changing up the background and dial elements. The display will surface message, call, and app notifications, but you can also use it to show things like weather and a second time zone, if you wish.
Those displays are paired with actual watch hands, which has been something of a staple in Fossil's hybrid watches and lends to that "analog watch" look. While these devices seem to check all of the boxes we'd expect from Fossil's hybrid watches, one area where they may get a lot of attention is in battery life. Fossil says that Hybrid HR watches will last "more than two weeks on a single charge," and that's with all of their features activated as well.
All five of Fossil's Hybrid HR watches are available on the company's website beginning today. They start at $195, but some models go up to $215, making them a little bit more expensive than many of Fossil's other hybrid watches. The company says that these are just a few of the 100 new smartwatches it plans to launch over the course of the 2019 holiday retail season, so it sounds like we'll be hearing more from them soon.