Fossil goes all out on hybrid, touchscreen smartwatches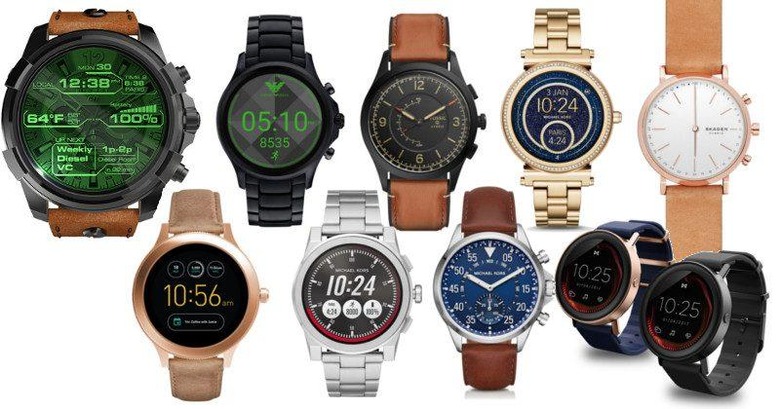 Pundits have started doubting the long-term viability of smartwatches as a commercial product but, if you consider the flood of new devices in the past few weeks, you would definitely think otherwise. After Google finally launched Android Wear 2.0, which has been delayed by months, a new generation of smartwatches popped up, though some are merely updating their software while sticking to the same hardware. Fossil's announcement at Baselworld is a mix of both, revealing new styles for old models as well as new smartwatches to fill this year's roster.
Like some traditional watch makers, Fossil has taken a two-pronged approach to adapt to the changing technologies and trends. On the one hand, you have full touchscreen smartwatches that embody the common notion of a smartwatch, with no analog piece in sight. But there is also what some have called "hybrid" smartwatches, those that still bear the design and construction of traditional analog watches but with some serving of sensors and wireless connectivity.
The Fossil Group's reach extends to not a few brands, so it's not exactly surprising to see a long list of what Fossil has in store throughout 2017. Some, like DKNY and Tony Burch, are making their first foray into wearables, though through a half-step hybrid smartwatch.
• DKNY MINUTE hybrid smartwatch collection (Holiday 2017) [NEW]
• Marc Jacobs Riley hybrid smartwatch (Fall 2017) [NEW]
• MICHELE Connected hybrid smartwatch collection (Holiday 2017) [NEW]
• Relic Duncan men's hybrid smartwatch collection and the Eliza women's hybrid smartwatch collection (Fall 2017) [NEW]
• Tory Burch Collins hybrid smartwatch (Holiday 2017) [NEW]
• Armani Exchange Connected new colorways of silicone style (Fall 2017) and five dress styles (Holiday 2017)
• Chaps Connected new colorways (Fall 2017)
• Diesel On new colorways and a new platform (Fall 2017)
• Emporio Armani new platforms and new colorways (Fall 2017)
• Fossil Q Accomplice and Q Activist customizable pushers (Summer/Fall 2017)
• kate spade new york update to with an even more feminine look, star detailing and sparkling pave stones (Fall 2017)
• Misfit Phase four new colorways (April 2017)
• Michael Kors Access two new colorways for ladies (Fall 2017) and new colorways and platforms for men (Holiday 2017)
• Skagen 19 new styles and four new platforms set to launch throughout 2017
The Fossil Grouup naturally has smartwatches of the "real" kind, sporting full (or mostly full) touch screens with customizable faces and designs. The newcomers in this segment are far fewer, perhaps hinting at the problems brewing in this market.
• Diesel On first touchscreen smartwatch available in five outsized styles (Holiday 2017)
• Emporio Armani Connected first touchscreen smartwatch (Beginning September 2017)
• Fossil Q Venture and Q Explorist (Fall 2017)
• Michael Kors Access Sofie and Michael Kors Access Grayson (Fall 2017)
• Misfit Vapor Android Wear 2.0 with heart rate monitoring, GPS, standalone music functionality, swimproof properties, up to 5ATM (Late-Summer 2017)
The Fossil Group also plans to launch "micro-apps" for its touchscreen watches. These standalone apps can work even without a smartphone and will be customized to cater to each brand's unique strengths and audience.