Fortnite's tempting starter pack is now live in the US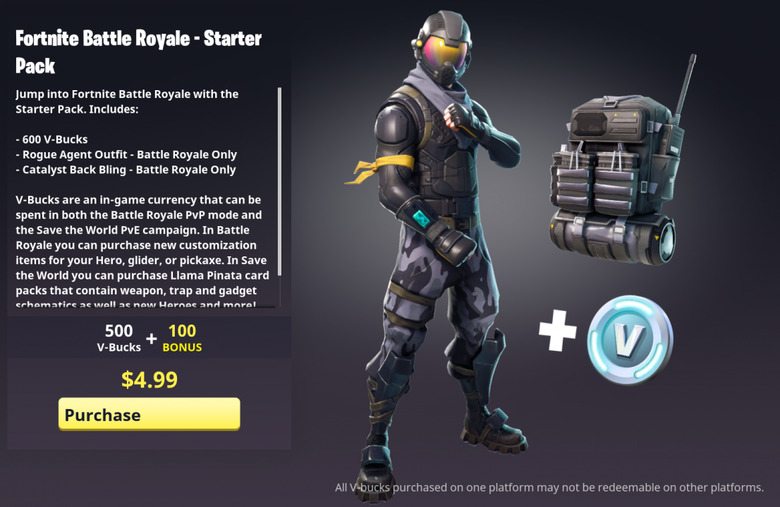 Over the past few months, Fortnite Battle Royale has become quite the sensation, thanks in large part to the fact that it's free-to-play. This puts it in stark contrast to PlayerUnknown's Battlegrounds, the other giant of the battle royale genre, which costs $30 upfront. Of course, Epic Games created Fortnite to make money, and it does that by selling various skins and bonuses as in-game microtransactions.
If you've yet to drop any cash on Fortnite Battle Royale, you definitely aren't alone. Still, Epic would like to tempt that first purchase out of you, and it's doing that with a new starter pack that has just launched in the US. We knew such a bundle was coming, as recent rumors have claimed as much, but now it has arrived on PS4, Xbox One, and PC.
The starter pack will set you back $4.99 and grant you Fortnite's Rouge Agent outfit and Catalyst back bling. As far as Fortnite skins go, this is pretty tame, but it also isn't the main draw of the starter pack. Those who pick it up will also get 600 V-bucks, which is Fortnite's in-game currency.
600 V-bucks would normally set you back around $6, so at $5, the starter pack is a pretty good value for the money. There's one slight problem, though, as 600 V-bucks isn't really enough to buy much in Fortnite's in-game store. That amount might get you a new glider or an emote, but most skins and pickaxes are more expensive than 600 V-bucks.
So, while this is a good deal, you're likely going to have to plop down some more cash if you want to purchase anything really cool with V-bucks. In any case, the starter pack is available now on Xbox One, PS4, and PC, so if you like what it's offering, feel free to pick it up.