Fortnite v9.40 patch notes detail new Tactical Shotgun variants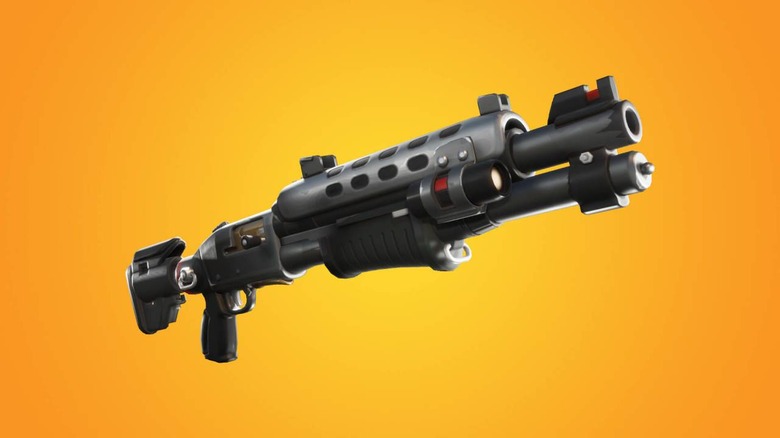 This week's Fortnite patch has landed, and like the ones from previous weeks, it's rather light on new content. It won't be that way forever, as dataminers have discovered a big event that's going down this weekend. As you might have already guessed, it involves that giant robot that's been constructed in the remnants of the island's volcano.
First, though, those patch notes. This week's Fortnite update, which brings the game to v9.40, adds epic and legendary variants of the Tactical Shotgun to the loot table. They'll do 83/87 maximum damage per shot depending on the rarity and both have a headshot multiplier of 2.25. They've been added to floor loot, chests, supply drops, loot carriers, and vending machines, so keep an eye out for them as you traverse the map.
Those new Tactical Shotgun variants are shipping with some other weapon tweaks. The long-range effectiveness of the Combat Shotgun has been decreased further, while the Suppressed Bolt-Action Sniper Rifle has been vaulted with the Bolt-Action Sniper Rifle being unvaulted in its place. Finally, Epic has reduced the zoom level on the Semi-Auto Sniper Rifle when looking through its scope as a quality of life update.
Overtime challenges pic.twitter.com/4VDT2DY8qi

— FortTory – Fortnite leaks & news (@FortTory) July 17, 2019
There's a number of other bug fixes and tweaks that can be viewed over in Epic's full patch notes, but aside from all of that, there's also the matter of that completed robot standing in the volcano. Dataminer FortTory has discovered references to "The Final Showdown" in the wake of this update, which seems to pit the Pressure Plant robot against the monster that recently appeared on Polar Peak. Countdown timers have appeared in-game, and they're counting down to 2 PM Eastern on Saturday, July 20th, so that's probably when the showdown will begin.
Birthday challenges pic.twitter.com/KBThTncmV1

— FortTory – Fortnite leaks & news (@FortTory) July 17, 2019
On top of all that, FortTory has also uncovered Fortnite's overtime challenges for season 9, along with the challenges that will be offered during Fortnite's second birthday event. You can check out those challenges in the tweets embedded in this article, but otherwise, it sounds like you might want to set aside some time on Saturday afternoon to see the giant mech and the monster go head-to-head.